JetBlue's chief executive called a decision by the US Department of Transportation (DOT) to get involved in the carrier's proposed acquisition of discount carrier Spirit Airlines "unprecedented".
"It is not something we have seen before," Robin Hayes said during JPMorgan's Industrials Conference on 14 March. "For the most part, it has been settled now for a number of decades that the [US Department of Justice] takes the lead on this."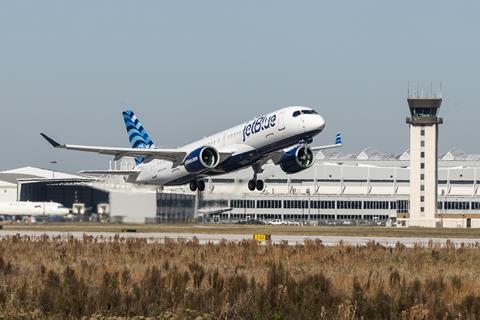 Speaking during the same conference, Spirit CEO Ted Christie suggested that the airlines may explore legally challenging the DOT's authority to interfere with their acquisition deal.
"It sort of depends on the the nature of their objection as to how we would tackle it," Christie says. "That would be an unprecedented move… I know I've heard our merger partners discuss the fact that they would intend to challenge that – I think we would have a good case there."
The DOT said on 7 March that it would work to prevent New York-based JetBlue from swallowing Spirit, after the Department of Justice (DOJ) filed a lawsuit to block the $3.8 billion deal. In the USA, the DOJ is responsible for enforcing antitrust laws and evaluating proposed mergers for regulatory compliance.
"The Department of Transportation typically has not gotten involved in these merger cases, but that's changing today," US transportation secretary Pete Buttigieg said during a 7 March television interview. "It is so important to make sure passengers have choices, that they have access to low fares, that they have access to competition."
Buttigieg added the DOT plans to deny JetBlue and Spirit a transfer application, which requests the two carriers be allowed to combine and operate international routes under a single certificate.
"The department will continue to separately investigate the transfer as part of its statutory public interest mandate and under its authority to enforce against unfair and deceptive practices and unfair methods of competition," the DOT says.
Speaking on 14 March, Hayes says JetBlue has not had any discussions with the DOT regarding the agency's plans to hinder the Spirit deal, but notes, "there is ambiguity around the DOT's current position."
"In an event where moving to a single operating certificate is delayed for some period of time, what does that disallow you from accomplishing? Because that is not entirely clear to me," he says.
Hayes says he is confident that JetBlue and Spirit will win the case " because we think we have great facts that show how pro-consumer this deal is, that it's in everyone's interest to close and get behind it".
"Our number one priority right now is to prepare for trial, litigate arguments and win the case," he adds.
The DOJ argues that JetBlue's acquisition of Spirit would eliminate an ultra-low-cost carrier from the market, to the detriment of cost-conscious leisure travellers.
New York-based JetBlue is also fighting a separate federal antitrust lawsuit seeking to block its so-called Northeast Alliance (NEA) with American Airlines.
"This summer, we will be entering into the fourth year since we signed the agreement," Hayes says. "I think the benefits are there for everyone to see. JetBlue has never been bigger in New York and we've grown Boston because of the NEA. We would like to be able to continue to do that."