The US Department of Transportation has issued a final order denying a request of antitrust immunity for Hawaiian Airlines' proposed joint venture (JV) with Japan Airlines (JAL).
The government had already, in October 2019, tentatively denied the request for antitrust immunity.
But Hawaiian submitted further information in an attempt to persuade the DOT to reverse course.
In a 13 March final order, the DOT upheld its previous decision.
"The joint applicants still have not demonstrated how the JV would function in terms of revenue sharing, pricing and marketing, even as they have added complexity to its scope and operations," says the final order. "Under these circumstances, the department cannot find that the new submissions are sufficient to warrant a grant of [antitrust immunity] at this time."
Honolulu-based Hawaiian could not immediately be reached for comment.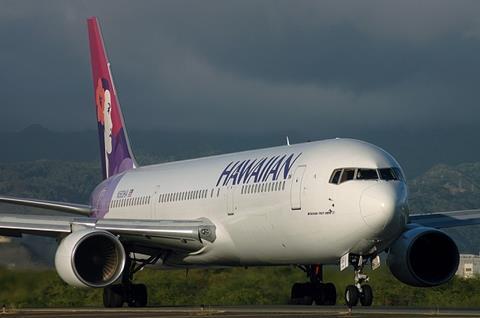 Hawaiian and JAL applied for antitrust immunity for their JV in June 2018. They intended to create a "revenue-sharing partnership that included nonstop flights between Hawaii and Japan, as well as flights connecting from Hawaii via Japan to 10 other countries in Asia", the DOT notes.
The DOT actually approved aspects of the proposal – those it said did not violate antitrust laws.
Hawaiian and JAL already have a codeshare deal.
But the government denied antitrust approval for other aspects, saying the carriers did not need the approval for their agreement to achieve proposed benefits.
The carriers disagreed, saying lack of antitrust immunity prohibits them from coordinating pricing and scheduling for the purpose of sharing revenue. They also expanded their immunity request to cover more routes, including Tokyo-Guam flights, flights from Hawaii to the South Pacific and Asia, and flights to India and Russia.
Story corrected to note the final order came 13 March.