Chief executive Johan Lundgren believes EasyJet is in position to significantly reduce losses incurred over the winter and ultimately for the off-season period to become profitable for the carrier.
EasyJet today disclosed a loss of £411 million ($513 million) for the six months ending 31 March 2023. That marked an improvement on the £545 milion it lost in the same period last year, in what is traditionally a loss-making period for the airline. Lundgren though sees scope for further reductions.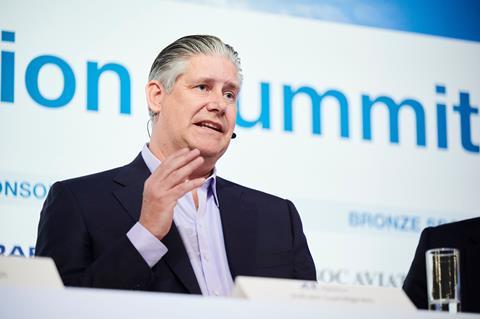 "Historically EasyJet has made a [first-half] profit once since the launch of this airline in 1995," Lundgren noted, speaking during a half-year results call today.
"But we see significant opportunities to dramatically reduce the losses we have this year and, with the levers we have available, we are aiming to get to [winter] profit at some point. It is not to say that the guidance is we are going to get to it this winter. But we are always trying to maximise the performance at every point in time."
At the heart of Lundgren's optimism is that he believes the airline, which has taken a more cautious approach on capacity than many of its rivals in the budget sector, will be able to profitably fly more capacity next winter.
"I think what has changed now is the threshold of what we need to put on capacity from a yield point of view has changed with the ancillaries. Take that into account with the tailwinds we see in the overall yield environment driven by strong demand, that means we have a great opportunity to do that," he says.
"So we will be able to put more capacity on because the threshold of where it makes sense and where it delivers a positive contribution has changed. The ambition is ultimately to get on to a winter that makes money and we are looking now at significantly reducing the losses as much as we can, as quickly as we can. I think we are in a good position to do so but when that profit comes, I can't tell you."
EasyJet chief financial officer Kenton Jarvis adds that this is particularly true of the first quarter of the winter season: "I think between October and December, it is a very tangible thing to say 'can we make a profit there' -- you've got Christmas, you've got the last summer [season] month, you've got October half-term," he says. "Then the Q2 one would be a longer journey, though that would be the case for all airlines."
EasyJet revenues jumped 80% in the first half, in part reflecting increased activity. However, the airline also reports a 26% uplift in ticket yields, which it attributes to switching more aircraft into the primary airports. For example, the airline has taken 24 aircraft out of Germany over the past two years, including a "right-sizing" at Berlin that it says delivered a £190 million improvement in profitability, while redeploying nine aircraft into the Greek islands and 11 aircraft each into Portugal and the UK. It has also today disclosed plans to open a Birmingham base next summer.
"We just have a completely different network," notes Jarvis. "We have taken 50 aircraft and put them somewhere else in our network. We have taken them out of places like Brandenburg, relatively cheap domestics that didn't really work, and we have put them back into densifying the routes in our slot-constrained primary airports, where we make better yield and we make better returns."
The airline also reports an 18% increase in ancillary yields, while the group's holiday business recorded a £10 million profit over the period. "We can regard the holidays as a super-ancillary to the company," says Lundgren.
He adds: "Our absolute focus is to deliver trading through the summer, operationally keep it really strong. Then we are on to planning for a significant reduction in the losses for the winter."