EasyJet will now operate no more than 20% of its planned capacity in the last quarter of the calendar year and has sealed sale-and-leaseback deals covering a further 11 aircraft as it continues efforts to counter the crisis.
The low-cost carrier had, in its full-year results on 8 October, said it expected to fly around 25% of its planned capacity during the October-December 2020 period – the first quarter of its new financial year.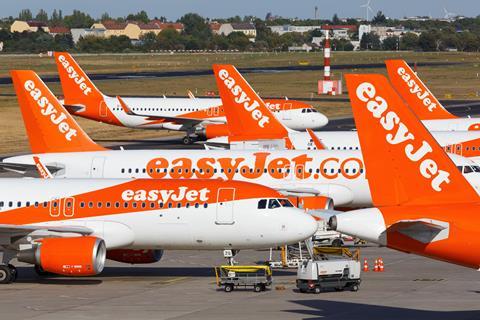 But it says that following new month-long travel restrictions in the UK, which took effect on 5 November as part of a national lockdown in England, and similar announcements in France and Germany, it now expects to fly no more than 20% of its planned capacity for the quarter.
"We remain focused on cash-generative flying over the winter season in order to minimise losses during the first half and retain the flexibility to ramp capacity back up quickly when we see demand return," the airline says.
EasyJet disclosed the latest capacity guidance in a stock market announcement today in which it also said it expects to raise $169.5 million from another batch of sale-and-leaseback deals.
Ten Airbus A320-family aircraft have been sold to ACS Aero 2 Beta, generating cash proceeds of $124.5 million. The aircraft have been leased back for an average term of 58 months. A further A320-family aircraft was sold to JLPS Holding Ireland for cash proceeds of $45 million.
The airline has used sale-and-leasebacks during the crisis as a means of raising additional liquidty. Late last month it generated almost $400 million from deals covering nine A320-family aircraft.
It notes that on completion of the further transactions, EasyJet will retain 141 fully owned and unencumbered aircraft – accounting for around 41% of its fleet.