EasyJet has raised a $1.87 billion loan which is partially guaranteed by the UK's export-credit agency.
The five-year loan is underwritten by a syndicate of banks, says the low-cost carrier, and supported by a partial guarantee from UK Export Finance under its export development guarantee scheme.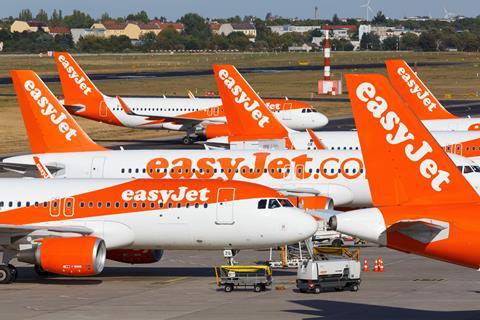 That scheme is available to UK companies and does not carry preferential rates or require state-aid approval, and contains some restrictive covenants including around dividend payments.
EasyJet says these are compatible with its existing dividend policy.
The five-year facility will be secured on aircraft upon drawing and will "significantly extend and improve" the Luton-based airline's debt maturity profile and strengthen its liquidity, it adds.
Cirium understands that 10 or 11 banks are involved in the loan facility. These include Santander, Citi, BNP Paribas and Societe Generale as co-ordinated lead arrangers.
The loan is 80% guaranteed by UKEF with the banks taking the remaining 20% risk. The financing is secured against a mixture of old and new Airbus A320-family aircraft.
A source tells Cirium that the loan will be secured by an estimated 70 to 80 jets.
The loan is at commercial market rates with the principal advantage for EasyJet being that banks can avoid name- and sector-risk concentration when lending to the UK carrier.
The financing comes after IAG-owned British Airways secured a £2 billion ($2.66 billion) loan in principle with a partial UKEF guarantee in late December.
During the first quarter EasyJet plans to repay and cancel part of its shorter term debt, namely its fully drawn revolving credit facility of $500 million and term loans of approximately £400 million.
This will free up a number of aircraft assets to further strengthen the airline's balance sheet, it says.
EasyJet has now raised more than £4.5 billion in liquidity since the beginning of the pandemic. This includes a number of aircraft sale-and-leaseback transactions.