European competition regulators have cleared a €1.35 billion ($1.6 billion) Italian capital injection into Italia Trasporto Aereo (ITA) and ruled the new operation is not liable to repay €900 million in illegal state aid received by national carrier Alitalia.
ITA, which began selling tickets late last month, is aiming to begin operations from 15 October. National carrier Alitalia, which has been in extraordinary administration for more than four years and from which ITA is acquiring various assets, will stop flights from that point.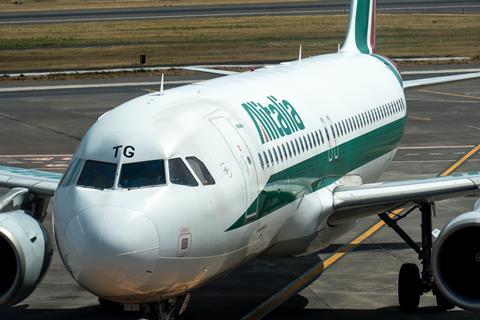 While the European Commission has today ruled that €900 million in state loans granted to Alitalia in 2017 does constitute illegal state aid, the decision that ITA is not the economic successor to the perinnial loss-making Italian flag carrier means ITA will not be liable to repay the newly adjudged state aid.
That, together with a ruling that Italy is acting as a private investor in providing €1.35 billion in capital injections over the next three years, clears the path for ITA to launch next month with a fresh start.
European Commission executive vice-president in charge of competition policy, Margrethe Vestager, says: "Italy has demonstrated that there is a clear break between Alitalia and the new airline ITA, and that its investment in ITA is in line with terms that a private investor would have accepted."
The Commision highlights a number of factors in its decision to rule ITA is not the economic successor to Alitalia.
"Looking at the aviation assets transferred, ITA will take off with a significantly reduced perimeter of activities," says Vestager. "It will operate less than half of Alitalia's aircraft, fly to fewer destinations and drop a number of loss-making routes.
"ITA will also only use a limited number of Alitalia's take-off and landing slots that corresponds to the number of aircraft that it will operate. The other slots previously used by Alitalia, including at congested airports in Rome and Milan, will be released.
Vestager adds that ITA will not take over significant parts of Alitalia's non-aviation businesses. "Alitalia's ground handling and maintenance businesses will be sold in open and competitive tenders," she says. ITA will be restricted to bidding only for the ground handling business at Rome Fiumicino airport, and for a minority stake in the maintenance business.
Another tender for Alitalia's brand will be held as an "open, transparent, non-discriminatory and unconditional tender to the highest bidder". ITA has previously outlined its intent to bid for the brand.
ITA though will not be able to participate in a planned tender for Alitalia's loyalty programme. Neither will ITA take over existing pre-paid tickets from Alitalia, with Italy instead refunding those tickets Alitalia cannot operate, and it will need to rebid in a fresh tender for Alitalia's public service obligation (PSO) route rights.
The EC also highlights ITA plans to employ staff, including some Alitalia employees, under new labour deals, and to modernise its fleet. ITA last month began talks with unions aimed at reaching a new labour deal, and aims to finalise its future fleet plans by the end of September.
"ITA will therefore be a different company from Alitalia. It will take off as a streamlined airline. This is crucial for the long-term viability of ITA," says Vestager.
In a further boost to ITA, the Commission has also today cleared Italian plans to provide €1.35 billion in capital injections to ITA over the next three years - including around €700 million this year.
"Our assessment of ITA's business plan has shown that Italy is investing in ITA in line with market conditions," says Vestager. "This is also confirmed by three independent expert reports submitted by Italy. And this is a crucial difference compared to the two loans in favour of Alitalia, on which we have adopted a negative decision today."
Vestager concludes: "Once ITA takes off, it is for Italy and ITA's management to make use of this opportunity once and for all. And we will continue to do our part to ensure fair competition in the European aviation sector."