The small Latin American nation of Ecuador is preparing for a new airline with a familiar name that promises to revolutionise the country's domestic transportation network.
Ecuatoriana Airlines – a brand with a 64-year history on the continent – plans to launch domestic operations using De Havilland Canada Dash 8-400s in October, almost a decade after the idea to revive a version of the defunct airline was born.
The country on South America's Pacific coast, sitting on the Equator wedged between Colombia and Peru with a population of about 17 million, currently has no national carrier of its own. Its capital Quito is served by some of the continent's major airlines like Aeromexico, Panama's Copa Airlines, Chile's LATAM and Colombia's Avianca nationally branded subsidiary, Avianca Ecuador.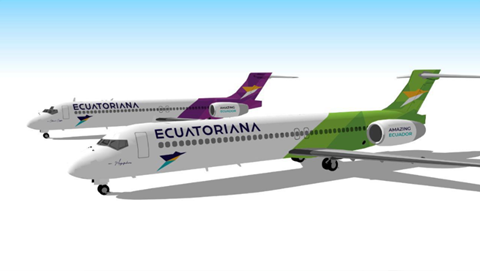 Quito International airport's website shows that American Airlines, JetBlue Airways, Spirit Airlines, Eastern Airlines, United Airlines and Delta Air Lines offer flights to the USA, with Iberia, Air Europa and KLM connecting the country with Europe.
But at the moment, Ecuador has no true domestic national airline. Ecuadorian airline TAME ceased operations in May 2020 after struggling for years, collapsing under the weight of the Covid-19 crisis.
Only LATAM and Avianca Ecuador offer flights from Quito to the country's number-two city, Guayaquil, and a handful of connections to secondary cities like Loja, Cuenca and two airports on the Galapagos Islands.
Eduardo Delgado, a Los Angeles native with Ecuadorian family, chief executive of Ecuatoriana, is working hard to change that.
He has been around commercial aviation for much of his career, starting off in ground operations at Los Angeles-area John Wayne airport. After that, he spent more than a decade working as a flight attendant and corporate security manager for Continental Airlines. He has been running his own luxury transportation company in Los Angeles and Quito since 2005.
And he has been incubating the idea of reviving the Ecuatoriana brand for quite some time.
"We attempted to start the airline in 2015. But the timing was wrong," he says. Post-Covid, though, much has changed.
SOUTHWEST CLONE
The first Ecuatoriana, established in 1957, served as the country's flag carrier until 1993, when it ceased operations amid the general economic crisis in South America. It was privatised and re-launched in 1995, but folded again in 2006 due to mismanagement.
The latest effort to revive the brand took shape in late 2019.
"Unbeknownst to us, the [pandemic] crisis was on our doorstep, TAME was going to be exiting the market and the economy would be crashing," Delgado says.
In March 2020, as the coronavirus tore around the world and the prospect for aviation seemed dire, Delgado nearly again ditched his plan, but advisors recommended he push forward. "They told me every pandemic has a silver lining, and this is Ecuatoriana's time."
The airline applied for an operating certificate from Ecuador's civil aviation regulator in August 2020, and received approval three months later.
Now, as the pandemic wanes, more carriers are re-establishing suspended flights and bringing Quito back into their networks. And once visitors arrive in country, it has become even more difficult to get anywhere else, Delgado says.
"In 2019, there were many airlines coming into Quito, but the passengers could not get from Quito to their final destination," he says. "To get to Loja, Cuenca, Esmeraldas, Manta, you had to take an hour-long taxi ride to the bus station, and then grab a bus – hopefully there's one available – and then you're going to be on that bus for six to 14 hours depending on where you are going.
"We are going to do what Southwest did back in the 1970s," he adds. "We are going to get people out of buses and on to airplanes."
His vision is to reinstate routes that will allow, for example, businesspeople to take day trips to secondary cities. Leisure travellers, he adds, also need an affordable, safe and efficient way to see friends and family, or explore their own country.
Delgado is also looking to close codeshare deals with major international carriers so that foreign visitors, too, can have a seamless and comfortable travel experience.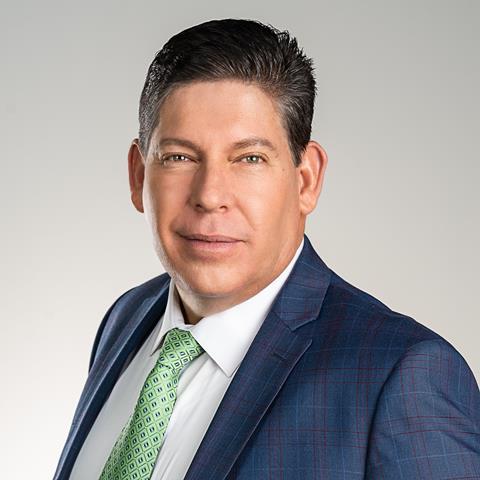 The new Ecuatoriana will have just over 100 employees in its first year, while creating an estimated 250 to 300 additional jobs. It is backed by $30 million in private equity for its start-up phase.
The company's business plan expects a load factor of 76% in the first three months – encompassing the usually busy end-of-year travel season. The airline anticipates its load factor will exceed 80% within the first year of operation.
Ecuatoriana plans to begin operations with two leased 78-seat Dash 8-400 turboprops in October, adding one more to the fleet by December and another by February 2022.
"The Dash is the most adequate airplane in all senses for Ecuador," Delgado says. "It's a small country – our longest route would be about 55min point-to-point, and we're going to be covering all these cities that haven't had air service in a very long time."
The country's airport network is surprisingly robust, with the government having recently invested in infrastructure improvements that have yet to be used, Delgado says.
"They are state-of-the-art, big white elephants that don't serve any purpose right now. We are going to step in, use this beautiful airport network, and we are going to make it work."
Delgado knows his airline eventually needs to be operating jets.
His team had considered Boeing's 717-200, a hardy twin-engine single-aisle type operated by just three carriers – Delta Air Lines, Qantas and Hawaiian Airlines. A hold-over from Boeing-acquired McDonnell Douglas, Boeing stopped building 717s in 2006.
But after crunching the numbers his team's focus has shifted to used Airbus A319s, a type they see as possibly better suited for operating within Ecuador's varied geographies. The final decision has not yet been made.
"We have restrictions – we have very cold, high-altitude airports, short runways, and we also have hot destinations," Delgado says.
Ultimately, however, another Airbus product is top of his wish-list.
"The absolute darling of an aircraft for us here in Ecuador would be the Airbus A220. It's perfect in all aspects," he says.
But for now, the youngest member of the Airbus family is financially out of reach for the small Latin American start-up, he says.
CARGO CRAZY
From the get-go, Ecuatoriana aims to transport more than just passengers. With the country's unreliable postal system, and no e-commerce network to speak of, Delgado smells opportunity. Similar to what Azul is in doing in neighbouring Brazil, he wants to make Ecuatoriana Ecuador's leading air freight carrier.
"Amazon has a huge problem with Ecuador… it can't promise an exact delivery date, because there's no way of getting a package from point A to point B," he says. "We are offering air service to the cities that are off the beaten path and currently have no air service. That's what we're targeting."
Long-haul routes, for example to the USA, are in distant plans. But local interest in such an undertaking, possibly with a widebody like the A330, is already high.
"We're getting a lot of inquiries for cargo service to places like Miami and New York," he says. Exporters of flowers, asparagus, broccoli and other fresh produce have approached the new carrier, offering to pre-pay for belly cargo to the USA if the airline were to establish regular scheduled flights.
"The pressure is on. We have to get our domestic network in line first, then we will consider international routes and bigger airplanes."
ROUTE NETWORK
The airline's farthest initial flights would connect the capital Quito to the Galapagos Islands, an archipelago located in the Pacific Ocean, about 771nm (1,388km) west of the mainland. That trip would take about 1h 40min.
The islands, a UNESCO World Heritage site, have long been marketed as an eco-tourism paradise. Some 25,000 people live there permanently, though in 2018 the islands hosted more than 11 times that many visitors.
Because jet fuel is unavailable to commercial aircraft in the islands, aircraft must be capable of carrying enough fuel to fly there and back.
Currently, Avianca and LATAM serve the Galapagos with flights from the southern Ecuadorian city of Guayaquil to airports on two of the islands – Baltra and San Cristobal, according to Cirium networks data.
"Pre-Covid, the Galapagos Islands was the crown jewel for these airlines," Delgado says, adding that demand was so high the carriers could charge almost any fare.
Due to the high demand for passengers, and weight limitations, those carriers were leaving belly cargo on the mainland, to be transported by ship to the archipelago. That often led to spoiled fresh food items and much frustration.
"The islands have a huge need for cargo capacity for perishables inbound," Delgado says. And on the return trip, the aircraft usually carry garbage.
"Our cargo out of Galapagos back to the mainland is all trash. So we would literally fill up our bellies with waste, used tires, cardboard, aluminum, all that stuff."
After the first domestic routes run smoothly, Delgado wants Ecuatoriana to expand to destinations in neighbouring Peru and Colombia, with the ultimate goal of building a small Ecuadorian-owned aviation empire on Latin America's northwestern coast.
"There's no reason that Ecuatoriana can't be like Copa, with a 'Hub of the Americas'," he says, appropriating that airline's tagline for its Panama City Tocumen home airport.
"Once passengers arrive in Quito we [will] have connectivity, to go to the islands, to other cities, to Bogota, to Lima, to Cartagena, or beyond."
The airline start-ups trying to confound Covid crisis by launching during pandemic
1

2

3

4

5

Currently reading

Ecuatoriana strives to revive aviation history, only better

6

7