Emirates Airline president Tim Clark believes airlines will be able to fill business-class and premium-economy seats following the pandemic even if demand for corporate travel remains depressed.
They might, however, need to discount premium seats to fill jets.
Demand for leisure travel (including from so-called visiting-friends-and-relatives customers) is widely expected to drive demand when borders begin reopening to international air travel. But questions remain over when, and if, corporate travel demand will return to pre-pandemic levels.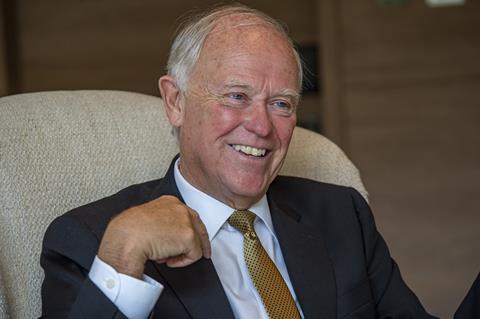 Speaking during the World Aviation Festival today, Emirates long-serving president Clark said, "The corporate segment might diminish over time… But the same seats will be filled by people who have hitherto not been able to afford that seat.
"If you drop that [price point] by 15-20%, they will come to business [class]. So, as we saw in 1998 and in other periods of great stress to the economy, what actually happens is [if] corporate segments diminish, the inventory gets filled with other segments."
Though airlines might need to cut fares to fill premium seats, "You take what you can get, you fill your aircraft", Clark says.
Airlines must remain nimble – able to adjust and absorb demand when it comes, he adds. "Premium Economy will add to that."
Emirates in January debuted its first Airbus A380 configured with a premium-economy cabin on the Dubai-London Heathrow route. The airline also plans to equip five yet-to-be-delivered A380s with the 56-seat premium-economy cabins and is considering whether to similarly retrofit other A380s. Additionally, Emirates intends to equip incoming Boeing 777X with the seats.
Clark's comments come as some segments of the airline industry – notably, the domestic US market – have shown recent signs of recovery.
Still, when wider international markets will broadly recover remains unclear, Clark says. It's "becoming increasingly difficult to forecast what countries are going to open under what set of rules".
"The original plan for Emirates – and we were saying this at the later stage of last year – was that with the vaccine programme running at a pace, this would be a panacea for the problem and that certainly by April and May we would start seeing an uptick in demand and in forward sales," Clark says. "Clearly, that hasn't happened to the extent we wanted or we hoped."
He adds: "We have been working behind the scenes to organise ourselves in such a way we can restore our fleet operations – the whole fleet including the A380s – as soon as we can, when borders open."