A successful global Covid-19 vaccination programme could see international air travel return at a "staggering rate" later this year, but only if "restraints" on travel are removed, in the view of Emirates Airline president Tim Clark.
Speaking during an Arabian Travel Market event on 24 May, Clark outlined an "ideal situation" where the vaccination programme essentially "beats the virus in its many mutations" and the world "is on top of" Covid-19 by the final quarter of 2021, creating the right conditions for cross-border travel to return at scale.
Such an outcome is possible, Clark believes, with bringing Covid-19 under control "a question of timing", amid the rollout of vaccinations and other mitigation measures such as track-and-trace programmes.
But even under the "ideal scenario" of significant progress on controlling the virus being made this year, the airline industry will still only be able to take full advantage of "pent-up demand" if certain constraints are addressed, according to Clark, including government-imposed access requirements and a potential lack of airline capacity.
"It's a question of seeing how we navigate the next six months," he says. "There is a lot of work to be done to free off that pent-up demand."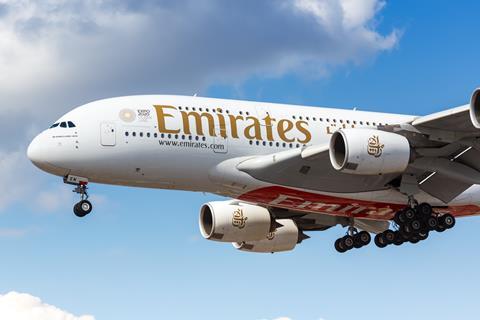 The continuation of complicated and variable pre-travel Covid-19 testing requirements – alongside the insistence in some cases that passengers prove they are vaccinated – and the constant threat of countries being "red-listed" by travellers' home governments while they are abroad would mean that international travel demand "is going to be restrained", however much the inoculation programme achieves, he says.
"As long as they are there, they will act as a natural inhibitor, not to demand itself, but to the ability to travel," Clark states, while highlighting the costs imposed on travellers by testing requirements as another limiting factor.
But under a scenario where there is "an equitable roll-out of vaccines at scale" around the world, Covid-19 testing regimes "are simplified and made cheaper" and governments ease border restrictions, Emirates could see a strong recovery in traffic later in 2021, he says, with the operator having largely retained its fleet of around 260 aircraft during the pandemic.
"All this lends to the theory that by the end of the year, we'll be back in business at some scale," Clark states. "But we have to wait and see."
The Emirates president has previously stated that opportunities could be created for the airline by a "demand upside", with other carriers having removed significant widebody capacity from their fleets amid forecasts of a years-long recovery back to 2019 traffic levels.