Etihad Airways has accelerated restructuring efforts after its core annual operating loss more than doubled to $1.7 billion in 2020.
The Middle Eastern airline had made an operating loss of around $800 million in 2019.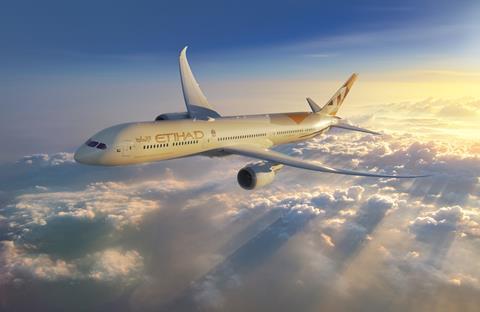 EBITDA swung a profit of $450 million in 2019 to a $650 million loss last year.
"We have taken bold action to protect our people and our guests, develop an industry-leading health and hygiene programme, and restructure our business to better position us for recovery," states group chief executive Tony Douglas.
While the Covid-19 pandemic "shook the very foundation of the aviation industry", a transformation programme implemented in 2017 to improve Etihad's "core business fundamentals" put the company "in good stead to respond decisively to the global crisis", Douglas asserts.
Citing support from staff and Abu Dhabi's government – the airline's sole shareholder – he adds: "Etihad stood firm and is ready to play a key role as the world returns to flying."
Passenger revenue shrunk 75% to $1.2 billion in 2020 as the number of travellers declined at a similar rate, from 17.5 million to 4.2 million. More than 80% of all passengers carried in 2020 were flown in the first quarter.
Passenger services in and out of the United Arab Emirates were suspended from the end of March until early June. Etihad's capacity as measured in available seat-kilometres was reduced by 64% in 2020.
However, cargo revenues increased two-thirds to $1.2 billion, amid huge demand for medical supplies. Cargo yields grew 77%. But tonnage declined from 635,000t in 2019 to 575,700t last year amid fewer passenger flights.
Etihad says it was able to reduce operating costs 39%, to $3.3 billion, as a result of lower capacity, a fall in volume-related expenses, and "cost-containment initiatives". These included a 25% reduction of overheads, and a 23% cut in finance cost through balance-sheet restructuring.
The number of employees was cut by a third to around 13,600 at the end of December. Etihad introduced company-wide salary reductions of up to 50% in order to "minimise job losses as much as possible".
"We started the year on a firm footing by surpassing our transformation targets for Q1 and were looking forward to a strong performance for the year ahead – and then the pandemic took hold," states finance chief Adam Boukadida.
"As passenger revenues nosedived, we took immediate action to secure Etihad's long-term financial health, with a wide range of measures to mitigate the impact of Covid on our business. Despite significant pressures on our cash flow, we maintained liquidity by focusing on cost control, maximising cargo revenue, enhancing our charter capabilities, and raising innovative credit facilities."
Etihad says it has "accelerated its transformation plans and restructured the organisation during the pandemic into a leaner and more agile business". The airline targets a turnaround by 2023, as planned prior to the crisis.
Its fleet grew to 103 aircraft in 2020 with addition of two Boeing 787s. Operations in 2020 were focused on the 787, the carrier notes.
Cirium fleets data shows that the airline's operation also includes 777-300ERs and -200LRFs, Airbus A320-family jets, A330s, A350s and A380s. Around half the fleet is listed as being in storage.
As part of a recovery effort, Etihad in September launched a vaccination programme for frontline staff. All operating pilots and flight attendants had been vaccinated by February, and more than 75% of UAE-based staff have received the jab.
Passengers have since August been required by the carrier to show a negative PCR test result before departure and on arrival in Abu Dhabi.