The European Union has recommended its 27 member countries re-impose restrictions on non-essential travel to Europe from the USA, as that country struggles to contain the "Delta" variant of the coronavirus.
"Following a review under the recommendation on the gradual lifting of the temporary restrictions on non-essential travel into the EU, the Council updated the list of countries, special administrative regions and other entities and territorial authorities for which travel restrictions should be lifted," the European Council says on 30 August. "Israel, Kosovo, Lebanon, Montenegro, the Republic of North Macedonia and the United States of America were removed from the list."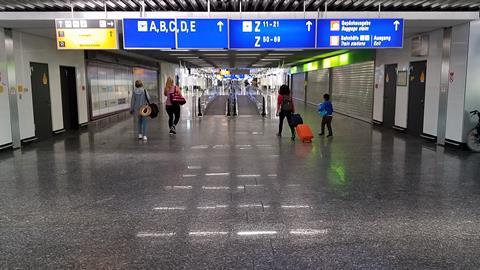 As a recommendation, the change is not binding. EU-member countries must decide for themselves whether to reimpose bans on inbound US travellers.
European nations had welcomed fully vaccinated US visitors as early as June after more than a year of entry restrictions. US carriers American Airlines, United Airlines and Delta Air Lines reinstated dozens of transatlantic flights. Airline executives have said that with every new country opening to US travellers, they saw a spike in leisure traveller interest and bookings to that country.
In addition, the carriers had been preparing for a rebound in corporate long-haul travel beginning later this year. It remains unclear what effect the new recommendation will have on these projections.
US airlines expressed disappointment in the EU's decision.
"The European Union's recommendations are a step backwards, and clearly disappointing to the US airline industry which has worked diligently to safely resume transatlantic service," says airline trade group Airlines for America (A4A). "As the EU has reopened, Americans have been eager to buy tickets, pack their bags and reunite with loved ones who they have not seen in nearly two years."
A4A says it remains in "close communication" with EU member states to "prioritise the safety and wellbeing of all travelers".
The EU's relaxation of travel rules for tourists from the USA earlier this summer was not reciprocated. The US government has maintained its entry ban on non-essential travel for passengers coming from the UK and Schengen area (which encompasses most of continental Europe), Brazil, South Africa, China and other countries. Those restrictions were implemented in March 2020 in an attempt to mitigate the rapid spread of the then-little-known coronavirus.
In past months, tourism and airline trade organisations have been pressing the US administration to relax rules to help the industry salvage part of the traditionally strong summer holiday period. In August, the administration of President Joe Biden said it was "working" on a plan to allow tourists to return to the US.
The US public health agency, Centers for Disease Control and Prevention (CDC) says that as of 29 August, 52.3% of the US population is fully vaccinated. However, the country is experiencing another spike in infections as the more-virulent "Delta" variant of the coronavirus is continuing to spread. On 27 August, CDC reported almost 177,000 new cases of Covid-19, the highest daily case count since 22 January.
Updated on 30 August to include a statement from US airline trade group Airlines for America (A4A).