The latest baseline projection from Eurocontrol shows European air traffic measured in flights reaching 50% of 2019 levels for the whole of 2021, following a "good increase" in traffic in the second half of the year.
"While the crisis continues, the trend is moving upwards and there is hope of some recovery this summer," the air navigation organisation says.
Outlining the new short-term forecast today, Eurocontrol director general Eamonn Brennan cites "massive underlying demand for air travel" in the region, with vaccination progress and the relaxation of government restrictions on non-essential travel being the "key drivers" of traffic growth in the coming months.
Traffic has been "hovering around" 35% of pre-crisis flights since January, Brennan explains, rising to 39% in May. Under the baseline scenario it would reach 57% in August, before ending the year at 70% in December.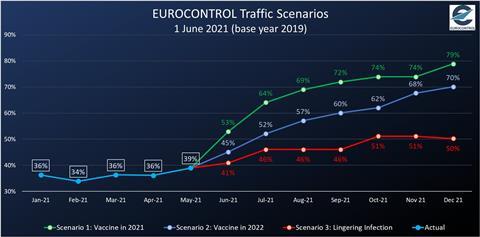 That scenario is based on "widespread vaccination take-up across Europe and co-ordinated easing of travel restraints being reached by the first quarter of 2022 between global regions, with more long-haul flows starting to return".
Under Eurocontrol's "optimistic" scenario, where countries relax restrictions sooner than expected, traffic rises much more steeply in the June-July period, reaching 79% of pre-crisis levels in December.
In its "pessimistic" projection, where factors such as Covid-19 variants make the opening up of travel markets more difficult than forecast, traffic peaks at 51% of 2019 levels in October-November.
Noting the accuracy of its January prediction that May traffic would be 39% of pre-crisis levels, Eurocontrol says that it is "developing these numbers in close consultation with individual airlines across a large sample of airlines and market segments".
In May, Eurocontrol projected that flight activity in the region will not return to pre-crisis levels until 2024 at the earliest and most likely not until 2025.
Eurocontrol describes itself as "Europe's network manager". Pre-pandemic, around 85% of the flights it tracked were commercial airline passenger operations, with rest accounted for by all-cargo, business aviation and non-scheduled services.