European airlines are urging EU member states to adopt a joint process to reopening their borders that includes co-ordination on testing, vaccination certificates and travel restrictions.
"We need governments to work with us to make this happen in a safe way," EasyJet chief executive Johan Lundgren said during a 25 March webinar organised by lobby group Airlines for Europe (A4E). "Our objective is unrestricted travel where it is safe to do so, but we must ensure there is a framework to do this, and we are currently not getting this."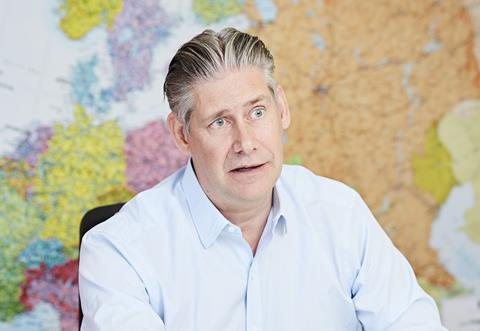 Ben Smith, chief executive of Air France-KLM, notes that restarting travel by the third quarter is critical for carriers, as revenue earned in the summer period can sustain them through the lean winter months. "We do want to restart by summer," he says. "It's clear our customers do want to travel, but first and foremost they need confidence."
The industry leaders, who also include Volotea chief executive Carlos Munoz and TUI's chief airline officer Marco Ciomperlik, are urging EU member states to move away from the "messy" patchwork of testing systems currently in force, which are expensive to operate and confusing for passengers.
Smith explains that within Air France-KLM's Dutch operations, for example, the company operates a double testing regime that "holds us back and makes us less competitive", especially to travellers from outside the bloc. "This is something that we don't understand and we don't agree with."
Countries should also adopt a common approach to the acceptance of test and vaccination certificates, as well as agree exemptions for vaccinated travellers, A4E argues.
It is also suggesting that passengers would gain confidence from a clear roadmap out of travel restrictions, something that is currently taking place only on a national level.
The group has welcomed the EU parliament's vote to fast-track digital green certificates, which could enable the system to be in operation by June. Lundgren notes that with the Commission having worked to deliver the scheme, "it's up to the member states to implement it".
Noting clear indications of pent-up demand, the executives express confidence that with a common framework, significant numbers of travellers could return to the skies this year.
"It is extraordinary how the travel sentiment is reacting on the daily news flow," says Lundgren. "Anything that can be interpreted as positive… you can see [bookings] surge on the hour."
He adds that actions key to the industry's future, such as dramatically reducing emissions, are reliant upon a recovery in revenues.
TUI's Marco Ciomperlik highlights the importance of aviation for the continent's wider economy, estimating that tourism is responsible for 10% of Europe's employment and 9.1% of its GDP. "Overall we are really counting on the summer from TUI's point of view… and all the signals we see are positive in that regard," he says. "People are sitting on their suitcases, as we say in Germany."