European commercial aviation's ambitions to address its sustainability challenges must not carry a risk that the region's airlines become competitively disadvantaged, in the view of Lufthansa chief executive Carsten Spohr.
Speaking during the A4E Aviation Summit in Brussels today, Spohr expresses concern that while Europe's airlines have committed to reaching net-zero CO2 emissions by 2050 and supporting the region's sustainability targets, they should not be "punished for doing more" than carriers in countries where governments are less active on the issue.
"Europe can become a global leader in decarbonising aviation," Spohr states. "But achieving net-zero emissions by 2050 should not erode the competitiveness of European airlines."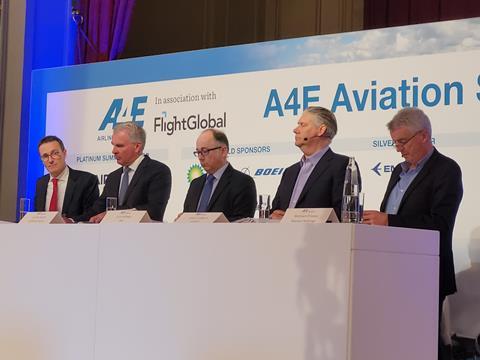 For network carrier groups such as Lufthansa, competition comes from within the region and from overseas airlines that serve its hubs. Should operators in either group not be subject to the regulations and costs that will come with addressing aviation's environmental footprint, Spohr believes the survival of Europe's airline sector could come into question.
"To be successful, policies must be designed to avoid distorting competition between European stakeholders within the single aviation market – as well as between European and non-European airlines," he states.
Spohr is therefore among the A4E airline chief executives calling for "global uniform regulation", including a global carbon price.
A4E has previously suggested that ICAO's upcoming assembly in September is an opportunity for the global adoption of a "long-term aspirational goal" for aviation that is consistent with net-zero 2050 efforts.
A4E counts Lufthansa, IAG, EasyJet, Ryanair and Air France-KLM among its members.