Ryanair is likely to require its passengers and cabin crew to wear face masks into 2022, despite the low-cost carrier's confidence that vaccination programmes will enable intra-European travel to open up well before then.
"We're planning to continue to require mandatory face-mask wearing on board our aircraft through the remainder of this summer schedule and next winter's schedule," said Ryanair group chief executive Michael O'Leary today.
He describes the requirement to wear masks on board flights as "remarkably successful" at "eliminating the spread of Covid on international flights", echoing similar comments made by airline industry body IATA, which has previously claimed that someone was more likely to be hit by lightning than catch Covid-19 during a flight.
O'Leary also believes that "customers will want to see that we're continuing to follow all the guidelines and continuing to put their health and their safety first".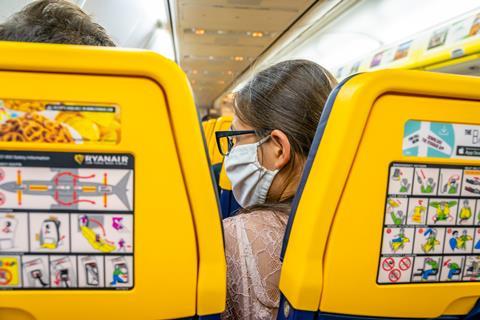 His comments came as he expressed optimism over the coming summer season in Europe, with O'Leary expecting vaccination programmes to advance far enough to allow for the significant opening up of intra-European markets in the second half of the year.
Ryanair hopes to operate at around 80% of its pre-crisis capacity in the June-September period, he states.
"Europe will be awash with vaccines by the middle of the summer," O'Leary says, adding that he sees little reason for governments to persist with border restrictions for short-haul flights within Europe at that point.
Nevertheless, "I do think even with 80% vaccination in place, effective heard immunity in place across Europe, we should still ask our passengers and our crews to try to minimise any risk of spread of not just Covid but other colds and flus as well", he says.
Ryanair would consider changing its policy, however, if European authorities amended their guidance on face masks, O'Leary notes.
The Ryanair chief also said that while he expected certificates of vaccination and Covid-19 testing to play a role in the opening up of international travel in the coming months, he saw no reason for any such requirements to remain in place once vaccination programmes are sufficiently advanced in the region.