FedEx Express is encouraging pilots to move to regional passenger carrier PSA Airlines as direct-entry captains, with the opportunity to flow through to legacy American Airlines. The regional carrier is sweetening the deal with a $250,000 signing bonus.
Details of the offer, which is available to FedEx pilots until 1 December, can be found on the PSA Airlines website.
According to a 3 November memo to FedEx pilots from Pat DiMento, vice-president flight operations and training, which has been widely circulated online, the carrier tells pilots that "air cargo demand remains down, with decreased revenues and volumes similar to 2019. The low demand is not unique to FedEx but is an industry-wide issue impacting the major cargo carriers". Its flight operations, he adds, are "significantly overstaffed".
FedEx is therefore encouraging pilots to consider moving to Dayton, Ohio-headquartered regional airline PSA.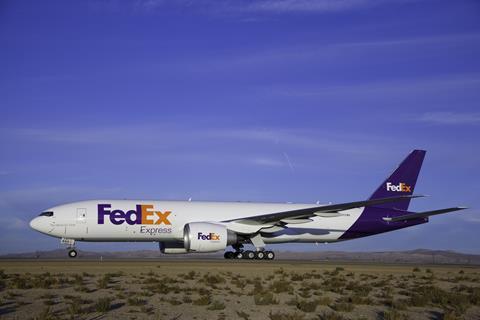 While FedEx did not provide FlightGlobal with the memo, it confirms the demand slump and its offer to pilots.
"Given the softness in air-cargo demand across the industry and current FedEx flight operations staffing levels, we shared information about this unique opportunity with our pilots," the carrier said on 6 November. "FedEx and American Airlines have had a good relationship for many years, and their recognition of the quality of our crew force is clear in this recruitment initiative that provides FedEx pilots an additional career path opportunity."
PSA has established a website for pilots considering switching from cargo to passenger flights. It says the roles are available at all of its crew bases – Philadelphia, Dayton, Dallas-Fort Worth, Charlotte and Washington, DC.
Pilots would be trained to fly the carrier's Bombardier CRJ700s and CRJ900s, with guaranteed minimum days off career-progression promises.
"Cargo to commercial with PSA: Unequivocally the highest pay and the best career stability in the industry," the website states. "Earn regional-industry leading compensation and benefits plus unparalleled opportunity for growth within the organisation. There's no better next step in your career."
"While I understand that this is not something that will appeal to every pilot, for those of you who are frustrated with current flight hours [or] career progression, or have just been on the fence about available options, you may consider this unique opportunity enough of an incentive to make a move," DiMento's memo reads.
For two years, US airlines have repeatedly complained about a pilot shortage, as experienced aviators left the industry during the Covid-19 global pandemic, and the production of new pilots failed to keep up with resurging travel demand.
US commercial airlines hired more than 13,000 new pilots in 2022 and are on track to hire a similar number this year. Various studies have predicted the industry will continue to suffer from too few pilots through the end of the decade.
But that shortage seems to be uneven across the industry. Cargo carriers have reduced earnings expectations in past months as freight volumes declined, while passenger airlines have parked aircraft for lack of pilots.
Earlier this year, FedEx pilots rejected by a 57% margin a new four-year contract that had been negotiated by their union, Air Line Pilots Association, International (ALPA). The deal would have taken effect in August and provided a 30% pay increase and improved pension benefits, the union said.
The rejection came after numerous other carriers, including United Airlines, American, Delta Air Lines and Hawaiian Airlines, agreed to new pilot contracts providing pay increases of 40% or more.
Updated headline and lead on 7 November to reflect that PSA will be paying the bonus, not FedEx.