Air Canada's slow and painful recovery from the Covid-19 pandemic appears mostly in the rear-view mirror as the carrier reports reaching more stable ground during the third quarter.
The Montreal-based company on 30 October reported a profit of C$1.25 billion ($900 million), compared with a C$508 million loss last year, as passenger revenue was nearly 22% higher year-on-year.
"We are very pleased with today's results and the solid three quarters behind us," chief executive Michael Rousseau said during the company's earnings call. "The ongoing demand environment… remains very stable."
For perspective, Air Canada recorded quarterly losses from the fourth quarter of 2019 until the fourth quarter of last year.
Air Canada's revenue swelled by nearly one-fifth to C$6.3 billion during the third quarter thanks to higher revenue from passenger fares, a "steady demand environment" and the airline's ongoing recovery. That is compared with C$5.3 billion in revenue the company generated during the same three months ending 30 September 2022.
"This increase was propelled by our effective network diversification strategy, which delivered strong results on our international network," says Mark Galardo, the airline's vice-president, revenue and network planning. "We built scale at our hubs and we leveraged our partnerships to drive a strong and growing, internationally focused airline."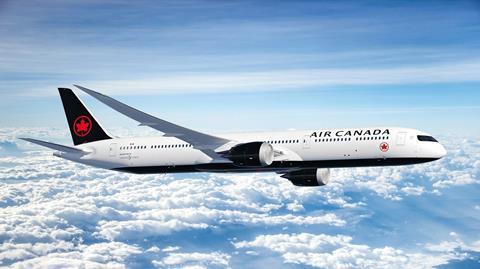 The carrier has been particularly focused on growing its hub in Vancouver, on Canada's Pacific Coast. It recently launched nonstop flights from Vancouver to Dubai and plans to begin flights from Vancouver to Singapore next April.
The airline's focus on trans-Pacific routes is likely to continue into next year.
"We see a strong opportunity to redeploy capacity into the Asia-Pacific sector over the coming months," Galardo says. "We are increasing our capacity to Japan and Korea, adding frequency to our successful new route to Bangkok and adding an additional red-eye flight from Vancouver to Hong Kong."
Most of the carrier's new international routes have performed better than expected, Galardo adds. Overall, Air Canada flew about 10% more passengers compared with the third quarter of 2022.
Looking ahead to the fourth quarter, Air Canada intends to increase passenger capacity as measured in available seat miles (ASMs) by about 21% year-on-year. The carrier has not yet disclosed targets for the full year of 2024.
In late September, Air Canada ordered another 18 Boeing 787-10s, the largest variant of Boeing's flagship widebody jet. The carrier already operates 38 787s, including eight 787-8s and 30 787-9s, and expects the first of the 787-10s will be delivered in 2025.
"This aircraft will replace existing widebodies that are reaching end of life, and its size will allow us to add premium seating and increase overall seat count on many of our existing routes," Galardo says. "This aircraft will also enhance our cargo proposition, offering additional pallet positions versus the 787-9 that we operate today."
Air Canada's cargo segment weathered "continued softness in demand" during the third quarter, Galardo says, adding that "relatively early signals observed from the market demonstrate upticks in demand and in yield". Revenue from cargo-hauling was down to C$215 million from C$281 million last year.
The carrier's cargo operation has six 767 Freighters in its fleet, compared with two of the type on 30 September last year.
As part of Air Canada's fresh 787 order, the carrier cancelled orders for two 777Fs. Galardo says it was "a little bit too early for us to take those into our network", and will focus instead on growing its 767 operation.
Notably, Air Canada lowered its debt obligations to C$5.4 billion from C$7.8 billion on 30 September last year.