Finnair has enough cash to survive until late 2021 with little or no flying, having introduced a raft of financial measures to ensure it can survive the coronavirus crisis, according to the carrier's chief executive Topi Manner.
"Our financial contingency measures have been quite sizeable and we have been developing a financial bazooka of sorts for ourselves, and that is why our cash position at this present time is still good," Manner tells FlightGlobal during an 8 October interview.
Despite the Oneworld operator running at an operating loss of around €2 million ($2.4 million) per day – half of which is depreciation – "even if we would be flying very little, or nothing at all, well into the next year then our cash would be adequate until the latter part of 2021", Manner states.
Finnair has raised almost €1 billion of new debt since the crisis began – including via a government-guaranteed loan and through the sale-and-leaseback of one of its Airbus A350s – while it also carried out a rights issue that raised €500 million of equity.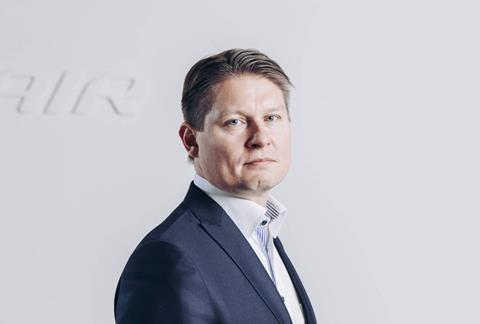 At the same time, the Helsinki-based carrier has been minimising costs in other ways, and currently has around 80% of its staff furloughed, alongside plans for a permanent 1,000-job reduction from its pre-pandemic headcount of around 6,700 employees.
"The permanent reduction of 1,000 people is directed to our land operations and headquarters operations," Manner says, explaining that the cuts would be "something like 30%" of the pre-pandemic workforce serving those functions.
That is happening alongside a reorganisation of the business, a redefinition of "cross-functional processes", and better utilisation of automation and digitalisation – all of which are aimed at "improving the productivity of the organisation quite significantly".
"We are resizing – we are resizing our fleet, we are becoming a smaller airline for the years to come," Manner states.
The Finnish government's comprehensive furlough scheme means that for now, however, no permanent cuts are planned among flight crew, he says, aside from those resulting from natural attrition.
Beyond crisis contingency measures, "we came into the current crisis in a healthy financial position", Manner explains, claiming that "only Ryanair and Wizz Air had better cash to sales ratios than we did at the start of the crisis in February-March".
Manner also highlights some advantages of Finnair being state-owned during the crisis, which has given it "quite a bit of credibility, especially on the financial market".
According to its most recent financial results filing, Finnair had €970 million in cash at the end of the April-June quarter.
A full interview with Topi Manner will be published on FlightGlobal Premium and in the next issue of Airline Business