Finnair expects first-quarter losses to be comparable to the levels reported in the three quarters since the pandemic hit, after today disclosing a full-year operating loss of €595 million ($718 million).
The Oneworld carrier says that during the first quarter of 2021, it continues to operate a limited network because of travel restrictions and, as a result, the comparable operating loss for the period will be of a "similar magnitude" to those seen in the second, third and fourth quarters of 2020.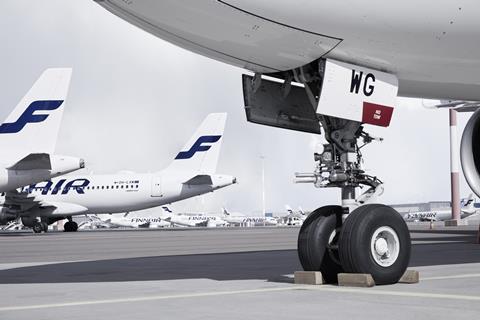 Finnair posted a comparable operating loss of €163 million for the fourth quarter, contributing to the full-year loss of €595 million. The latter figure falls to an operating loss of €465 million when adjusted for one-off effects from changes to its pensions scheme.
Full-year revenues slumped 73% in 2020 to €892 million, as passenger levels fell 76% from 14.7 million to just 3.5 million.
Finnair chief executive Topi Manner says: "Our result for the year was [a loss of] €523.2 million. Thanks to the rights issue of nearly the same size, our balance sheet and cash reserves remained at a healthy level. Our equity ratio was 24.6% and our cash reserves amounted to €823.7 million at year end.
"During the year, we focused on securing the continuation of operations and our long-term competitiveness in a post-pandemic market that will be different from what it was before the pandemic. Our financing measures were timely and comprehensive, and we secured approximately €1.8 billion of new financing, which included an oversubscribed rights issue of over €500 million."
The airline also has a Finnish state-supported hybrid loan of up to €400 million awaiting European Commission approvals. "The support from the state of Finland and other shareholders has been critically important in this situation," Manner notes.
Finnair reduced costs by over €1.5 billion in 2020 – around 30% of which was fuel related – and has cut around 1,100 staff positions.
The airline, which has 16 Airbus A350 aircraft already, has pushed back delivery of its three outstanding examples to the second quarter of 2022, the fourth quarter of 2024 and the first quarter of 2025 respectively. It also retired its two oldest Airbus A319s.
"Finnair has the possibility to adjust the size of its fleet in line with demand forecasts through the staggered maturities of its lease agreements and changes in the number of owned aircraft," the airlilne adds.
It states that the planned introduction of its new premium economy cabin class has been pushed back from this year into 2022.
Furthermore, Finnair says the pandemic impact has prompted it to reassess its strategy. "Though the foundation is still valid – for example, Finnair is still fully committed to Asian megacities and transfer traffic between Asia and Europe – the focus areas related to growth, network and fleet investments and their schedules, as well as long-term financial targets, will be re-evaluated in the autumn of 2021," it says.
But the airline adds it still estimates that it will return to profitable growth within a rebuilding period of around two years.
Manner says: "We expect travel to begin to recover from summer 2021 onwards as vaccination coverage increases and countries start lifting their travel restrictions. We intend to come out stronger and serve our customers even better when the market starts moving. We have enhanced the agility of our operations so that we can act fast when our customers are again ready to travel."