Finnair has reached an agreement to cut 700 jobs – more than 10% of its workforce – as it grapples with the impact of the coronavirus pandemic.
Some 600 of the cuts will be Finland-based employees, while 100 will be overseas staff.
The announcement marks the completion of the "co-operation process" – announced in late August – which is required under Finnish law when a business wishes to reduce its workforce.
The Oneworld carrier had proposed cutting up to 1,000 positions, but notes that it was "able to find savings solutions which helped us to save approximately 150 jobs".
It states that the cuts do not affect cabin or cockpit crew.
Indeed, speaking to FlightGlobal in early October, Finnair chief executive Topi Manner said that the permanent job cuts would be "directed to our land operations and headquarters operations".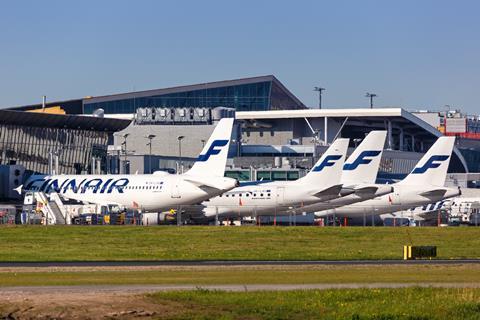 Manner added that Finnair has around 80% of its staff furloughed under Finland's comprehensive job-support scheme.
The airline confirms today that "the temporary layoffs may continue for a long time as the recovery of aviation will take several years, according to the industry estimates".
When the negotiations began, Finnair said they involved some 2,800 of the Oneworld carrier's 6,200 Finland-based employees, plus around 500 staff based abroad.
Today, Finnair has around 6,500 employees, the carrier states, with the permanent cuts due to be implemented in March 2021.