Finnair has started negotiations to cut up to 1,000 permanent jobs – 15% of its total workforce – amid "exceptionally tight" travel restrictions in its home country.
The "cooperation negotiations" – required under Finnish law when a business wishes to reduce its workforce – will involve some 2,800 of the Oneworld carrier's 6,200 Finland-based employees, plus some of the 500 staff based abroad.
The airline aims to "ensure the continuity of Finnair's core operations" as soon as the market recovers, and is therefore not planning a permanent reduction of its Finland-based flight-deck or cabin crew.
The cuts, however, will be implemented alongside "other structural changes" and "additional temporary layoffs due to the impacts of the corona pandemic", it states.
The carrier notes that "almost all" of its employees in Finland have been temporarily laid off "for part of the spring and summer". Those temporary layoffs will continue, Finnair says, adding that they can be "either for a fixed term or until further notice".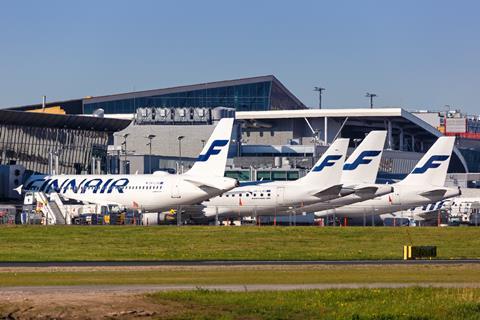 At the same time, the carrier has increased its cost-saving target through to 2022 from €80 million ($95 million) to €100 million.
"Covid-19 is the deepest crisis of aviation," states Finnair chief executive Topi Manner. "The pandemic and the exceptionally tight travel restrictions in Finland have impacted flight demand and we will operate only a small part of our capacity compared to last year.
"A rapid turn for the better in the pandemic situation is unfortunately not in sight. Our revenue has decreased considerably, and that is why we simply must adjust our costs to our new size."
Finnair said in late July that it was expecting to restore 50% of its pre-crisis flight capacity by September.
Since then, however, the country's government has tightened restrictions on travel to and from a raft of destinations.