American Airlines' flight attendants are set to vote starting late this month on whether to approve a strike against the carrier, a move coming as the airline and union continue battling over a new contract.
The Association of Professional Flight Attendants (APFA) says on 18 July that its board of directors has approved a "strike authorisation" vote among members.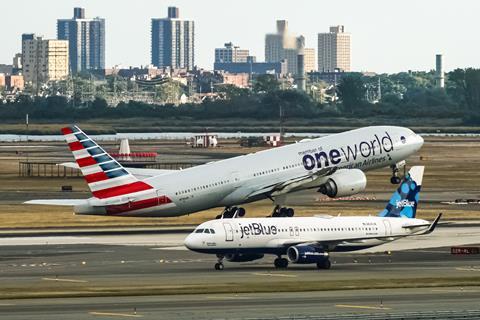 The vote will occur between 28 July and 29 August, with results to be released on 30 August, the union says.
"If approved, the strike authorisation vote would allow APFA to call a strike, if necessary, once released to self-help by the National Mediation Board," says the APFA, which represents more than 26,000 American flight attendants.
Fort Worth, Texas-based American's contract with its flight attendants became amendable in 2019. The union and airline have recently been tussling over the terms of a new deal, with the union having organised picketing days this year and last.
In March, the APFA and American asked the US National Mediation Board to help steer them toward an agreement. The labour group has said its members at American have not had a pay bump in more than four years.
"We look forward to reaching an agreement with APFA quickly so that American's flight attendants can benefit from a contract that provides them with real and meaningful value," says American. "We continue to meet regularly and appreciate the National Mediation Board's recent support as both American and APFA work to reach an agreement."
Story updated on 18 July to note that American and the union requested federal mediation.