Scandinavian budget carrier Norwegian has confirmed that four subsidiaries which employ more than 4,000 pilots and cabin crew members in Denmark and Sweden have filed for bankruptcy.
Norwegian's crew members in Scandinavia are employed by various subsidiaries of the company. Norway-based employees' salaries are covered by the country's government while they are furloughed, but the same is not true for crewmembers based in Denmark and Sweden, says the airline. As a result, it had "no choice but to apply for bankruptcy" for three subsidiaries in Denmark and one in Sweden.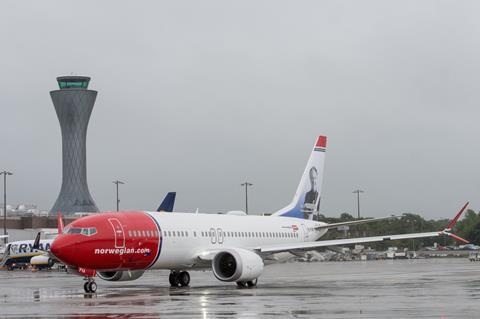 The move will affect 1,571 of Norwegian's pilots and 3,134 of its cabin crew. Some 700 pilots and 1,300 cabin crew based in Norway, France and Italy are unaffected, notes the airline.
"We have done everything we can to avoid making this last-resort decision and we have asked for access to government support in both Sweden and Denmark," states Norwegian's chief executive Jacob Schram.
He adds: "It is heartbreaking that our Swedish and Danish pilot and cabin crew subsidiaries now are forced to file for bankruptcy, and I'm truly sorry for the consequences this will have for our colleagues. We are working around the clock to get through this crisis and to return as a stronger Norwegian, with the goal of bringing as many colleagues back in the air as possible."
Norwegian says the bankruptcy process for the four subsidiaries is being managed by the courts in their respective countries.
The airline has also cancelled crew-provision agreements with subsidiaries employing crew based in the UK, Spain, Finland and the USA, prompting analysts to wonder whether it is retrenching to Norway.
Credit Suisse writes that the airline's moves are "suggesting to us it may close its Gatwick/Spanish bases".
Bernstein analyst Daniel Roeska described Norwegian on 14 April as being "at the end of the line" after it proposed converting debt to equity in order to qualify for state aid. He wrote that Oslo had an interest in keeping the airline alive to facilitate connectivity for its corporate sector, but asked whether the airline would "admit that the long-haul, low-cost experiment has failed and retreat back to its Nordic core".