Air France must slash domestic flights and agree to work towards becoming the world's "most environmentally friendly" airline, if it is to satisfy the conditions of its government bailout.
French finance minister Bruno Le Maire detailed the conditions to a parliamentary economics committee on 29 April, and has posted a video on Twitter in which he summarises the government's expectations of the airline.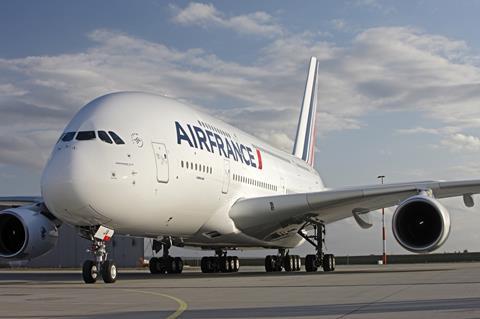 The French government wants Air France to halve its overall carbon-dioxide emissions per passenger-kilometre by 2030, compared with 2005 levels. This is in line with plans already set out by the airline. The CO2 reduction target for domestic flights, however, is even more stringent: the finance minister is calling for a 50% reduction by the end of 2024.
"As soon as there is a rail alternative to domestic flights with a duration of less than 2.5h, these domestic flights will have to be drastically reduced and limited to hub transfers," says Le Maire.
The French government is also calling on Air France to renew its fleet with more efficient aircraft, and to commit to sourcing 2% of its fuel requirements from sustainable sources by 2025. The airline announced in December that it had signed a memorandum of understanding with World Energy and Shell to begin using a blend of conventional and sustainable aviation fuel on flights out of San Francisco from 1 June.
France's government said earlier this month that it would provide a state-backed loan of €4 billion ($4.4 billion) to Air France-KLM and Air France, in addition to a direct shareholder's loan of €3 billion to the Franco-Dutch airline group. KLM is also in line to receive €2-4 billion in financial support from the Dutch government, but the country's finance ministry has said the airline must contribute environmentally, by reducing the number of night flights, as part of the deal.
Climate campaigners have been calling for coronavirus-related state support packages to come with green strings attached, and the conditions set out by the French and Dutch governments signal a move in this direction by certain countries.
However, these moves do not go far enough for some environmental groups, which argue that the conditions set out thus far are non-binding.
"France's green requests are a first but we had non-binding commitments for years and airline pollution ballooned," says Andrew Murphy, aviation manager at Brussels-based lobby group Transport & Environment.
He adds: "Marginally more efficient planes won't put a dent in emissions if airlines still burn fossil fuels that they buy tax-free. Governments should require the industry to take up greener fuels and pay taxes like the rest of us."