Frontier Airlines chief executive Barry Biffle believes that air traffic control (ATC) disruptions plaguing US airlines will get worse before better.
Now he is taking a page from the European ultra-low-cost-carrier (ULCC) playbook to help keep Frontier running smoothly.
"We are going to go straight into a best-in-class ULCC model of Europe," Biffle said on 26 October, pointing to Ireland's Ryanair and Hungary's Wizz Air as examples. "We're finally at a size and scale where that makes sense… We will be in a situation where we don't have anywhere near as many multi-day trips."
Biffle lays out the strategy during Frontier's third-quarter earnings call, saying the carrier will shift its network and capacity strategy to include more out-and-back flights, making for a simpler operation. In addition to some European airlines, Frontier's US competitor Allegiant Air operates such a network. Biffle says the move will help Frontier maintain a stable operation amid difficulties caused by shortages of ATC staff.
"We're assuming it gets worse because, if you look at the staffing levels relative to departures, it is going to be more constrained than it is now," Biffle says. "We are planning around that by ensuring that we no longer have the dependencies and the risk of running multi-day trips."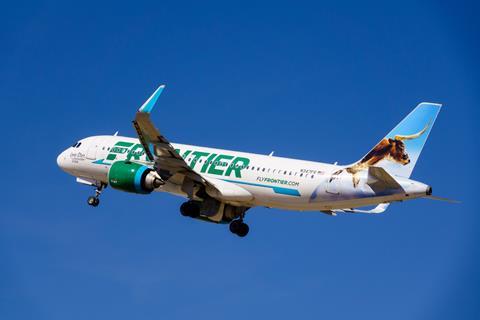 The Federal Aviation Administration has struggled in recent months to cover peak travel times with sufficient numbers of air traffic controllers. ATC under-staffing has been particularly severe in the Northeast USA – a problem frequently compounded by weather.
Ramping up ATC training is one of several major challenges facing new FAA Administrator Michael Whitaker.
Frontier has experienced a "significant increase" in ground-delay minutes in recent months, Biffle says, and such disruptions can have domino effects.
"Because the disruptions with ATC, we saw consistently over a third of our aircraft not ending up where they were supposed to be the following night," he says. "That has massive disruption to your maintenance plan. It causes you to need excess mechanics. It causes you to need more parts."
"When we look at where we are very challenged, reliability-wise, it is dramatically impacted in the multi-day trips," he adds. Such trips involve sending crews and aircraft away from bases for several days and on routings that often criss-crossing the county.
To reduce its vulnerability, Frontier is tweaking its model to that of European ULCCs that have been working "in a tougher operating environment for decades", Biffle says.
Frontier had previously hinted at such a change. During the company's second-quarter earnings call on 1 August, executives said they would be incorporating ATC constraints into network planning moving forward.
"The forecast is that ATC staffing stays low for a few years," Biffle said. "But we can plan around it much better."
The carrier plans to operate an "80-90% out-and-back simplified network", Biffle says. "We're targeting the 90%-plus range by the time we get to spring." Its current network is composed of about 50% out-and-back routes, he says.
Biffle adds that planning for simplified operations "unlocks the reliability of the airline and unlocks our ability to increase [aircraft] utilisation".
Frontier Group Holdings reported on 26 October "disappointing" third-quarter results as it struggles with soft demand in its core markets and operational difficulties.