Like the rest of the airline industry, Frontier Airlines is cutting costs and seeking federal aid as the pandemic has obliterated passenger demand, while also defending its network position as it plans for an eventual travel recovery.
The Denver-based low-cost carrier is operating a 60% load factor and has returned 75% of its aircraft to service, senior-vice-president of commercial operations Daniel Shurz tells Cirium. Its load factor is at the higher end of the spectrum among its US competitors.
Nevertheless, the carrier is preparing for a tough second half of 2020, and has warned 35% of its flight attendants and pilots they may face involuntary furloughs in October after federal payroll support expires. It has also indefinitely delayed the opening of its new flight attendant station in Newark.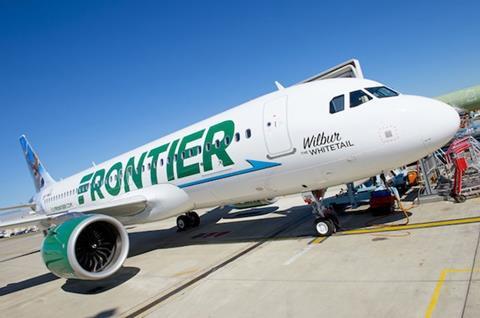 Frontier, owned since 2013 by private equity firm Indigo Partners, employs 2,600 flight attendants and 1,590 pilots. Warning notices have been sent to 925 flight attendants and 559 pilots. The carrier relies on contractors for much of its maintenance and has a smaller full-time staff than larger airlines, which Shurz says gives it flexibility "to manage the business through the crisis".
"Cost management is an everyday focus for us, it's not something that we suddenly had to worry about during a crisis," Shurz says. "It's in our DNA."
Frontier flew to only six international destinations prior to the pandemic, Cirium schedules data shows, minimising the leisure carrier's exposure to the almost non-existent market for business and international travel.
While the carrier has some competition on nonstop routes in cities including Las Vegas and Denver against carriers like Southwest Airlines and Spirit Airlines, Shurz is optimistic that Frontier can defend its market-share.
The Colorado-based carrier will resume nonstop flights over several months from Cincinnati Northern Kentucky international airport (CVG) to Dallas and Miami in August. It will also add frequencies on flights from CVG to Denver, Fort Myers, Las Vegas, Tampa and Orlando.
Analysts expect domestic leisure travel will recover fastest in the USA when coronavirus infections recede, although trade group IATA reports that it could take until 2024 for passenger capacity to return to pre-pandemic levels.
As airlines reduce fares to attract passengers during the downturn, Shurz says Frontier will focus on visiting friends and relatives (VFR) travel.
"Low airfares really do stimulate VFR travel," he says.
"Ancillary revenues have held up markedly better than average fare revenues," he says of the ULCC's bag fees and other passenger revenues. "As the weather gets cooler, we do expect demand to increase for outdoor destinations."
US carriers predicted a summer bump in passenger numbers on the basis that Americans coming out of quarantine would opt for vacations. Frontier, in late May, announced new seasonal routes to Florida after the state announced plans to reopen and passengers began flying more often. The bet initially paid off.
In June, the US Transportation Security Administration reported increasing passenger throughput rising from the trough of April. This led Cowen airline analyst Helane Becker to state on 16 June in an investor note "we appear to be in a swoosh recovery" and expected sustained improvement as states reopened businesses.
Instead, TSA passenger numbers plateaued in July and August as coronavirus infections spiked across the USA, leading Florida and other states to halt or scale back the reopening of businesses.
"It seems like the folks flying right now are younger leisure fliers and taking advantage of a low-fare environment who don't have much allegiance to an airline," Bloomberg Intelligence airline analyst George Ferguson tells Cirium. "Against that backdrop, low costs should provide staying power and Frontier has some of the lowest."
STAYING POWER
Ultimately, two metrics are critical to an airline's survival at the moment: cash burn and liquidity. As a privately held company Frontier declined to reveal details about its cash and debt, saying only that "we are supplementing our overall balance sheet strength through the government loan program under the CARES Act."
Frontier received around $200 million in federal funds to subsidise the salaries and benefits of its workers through 30 September, amounting to a $170 million grant and a $30 million loan. The airline also has signed a letter of intent with the US Treasury to receive an additional CARES Act loan for non-payroll expenses but does not disclose the terms or amount of this agreement.
In July, the Denver-based carrier cancelled plans for its initial public offering of stock that it submitted to the US Securities and Exchange Commission in 2017, but Shurz says that "doesn't indicate a change in our interest".
"The filing had been dormant for well over a year," he says. "The SEC doesn't like dormant filings."
Frontier benefits from the support of its shareholder, airline investment firm Indigo, which also has stakes in carriers like Wizz Air and Volaris. "We can collaborate on best practices and how our partner airlines in the group are addressing issues," says Shurz.
Prior to the pandemic, Frontier had big ambitions for its fleet, with 92 Airbus A320-200neos on order, along with orders for 67 A321neos, Cirium fleets data shows. The carrier's all-Airbus fleet includes 101 A320 family aircraft.
"We have the youngest fleet in the USA," Shurz says. "It's an entirely leased fleet."
Frontier has negotiated "payment concessions with lessors" he says, and the fleet orders remain unchanged.
While the company declines to reveal much about its liabilities or liquidity position, Indigo principal Brian Franke told Cirium in March that Frontier and other carriers owned by the private equity firm are prepared to "ride out the storm".
That storm is projected to last longer than IATA and airlines expected in March.
Travel recovery slowed during the summer, but Americans have settled into pandemic routines. Air filters on jets minimise the risk of spreading germs, the US Centers for Disease Control and Prevention says, adding that precautions like wearing masks and practising social distancing during flights also guard against infection. The latter, unfortunately, will make it difficult to safely increase load factors to fill cabins before a vaccine is widely-available. With yields down across the board, it may be difficult for Frontier to turn a profit in these conditions.
But all airlines are facing the same challenges, and when traffic finally does rebound in the USA, Frontier's austere budget culture and lack of exposure to international and business traffic may leave it with fewer hurdles to clear.