Following United Airlines' lead, ultra low-cost carrier Frontier Airlines will require all employees to be vaccinated against the coronavirus from 1 October.
The Denver-based airline says on 6 August that the decision comes as the highly-contagious "delta" variant of the virus has caused a sharp increase in cases across the USA.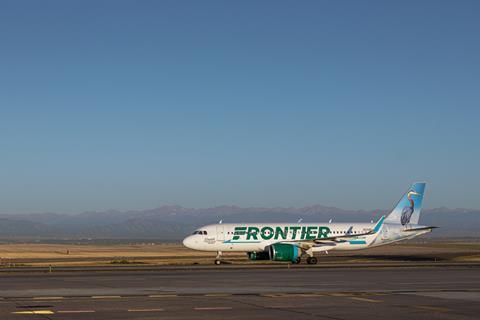 "As we continue to watch the rapid increase of new Covid-19 cases across the United States caused by the delta variant, I am concerned for the well-being of our team members, their families and friends," says chief executive Barry Biffle. "Safety is of the utmost importance at Frontier and we need to take every step possible for us to keep our teams safe, protect the operation and protect our passengers. The time has come to do what we can to help put an end to Covid-19."
Frontier's announcement comes just hours after Chicago-based United informed its employees they will need to be vaccinated by 25 October, or five weeks after the Food and Drug Administration (FDA) grants full vaccine approvals, whichever comes first.
Media have reported that the FDA could give that approval by the first week of September. So far, the vaccines have been granted "emergency-use authority".
Frontier says employees that choose not to be vaccinated, or are unable, must be tested regularly and present proof of negative test results.
"The good news is that the vast majority of our employees have already taken this important step and have gotten vaccinated," Biffle adds. "I hope the step we're announcing today will further increase the percentage of our workforce that's fully vaccinated."
Earlier this week Frontier said it has seen some "softening" in bookings as concerns about the rapid spread of the delta variant grow.
Frontier is the first US carrier to report lighter booking volume since US airlines began holding their second quarter earnings results calls three weeks ago.
In May, Delta Air Lines began requiring all new hires to be vaccinated, but the carrier said at the time it would not require vaccines for current employees. On 6 August, American Airlines chief executive told the The New York Times that the airline would "encourage" employees and customers to be vaccinated, but not mandate it.