Frontier Airlines on 1 August reports a $71 million second-quarter profit amid competition from international long-haul flights and ongoing operational difficulties.
For comparison, the Denver-based ultra-low cost carrier (ULCC) made a $13 million profit during the same period last year.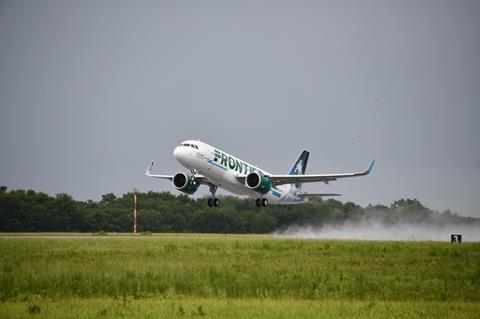 In an observation recently shared by other US carriers, pent-up demand for international travel that "skews very, very heavily to Europe" is cutting into the domestic leisure market, Daniel Shurz, senior vice-president of commercial for Frontier, said during the carrier's quarterly earnings call.
Chief executive Barry Biffle characterises the phenomenon as a "temporary headwind" and expresses confidence that the market will eventually shift back in favour of domestic flying. But the carrier still expects that its third quarter results will be affected by competition from long-haul carriers.
The airline generated revenue of $967 million, up 6% from $909 million in the second quarter of 2022, while costs were down 2% year-on-year, to $888 million from $902 million.
Frontier flew 7.6 million passengers in the three months ending 31 June, up 17% from last year.
Like low-cost carrier peer JetBlue Airways, Frontier is experiencing weather and air traffic control (ATC)-related operational disruptions.
"Weather across the United States, in particular Florida, has produced record air traffic control delay programmes, resulting in the cancellation of 3% more flights in July," Biffle says.
"The biggest challenge is simply that we are seeing more ground-delay programmes and we are seeing them put on much sooner and for much longer duration than we've seen in the past," he continues.
Frontier executives say the company is incorporating ATC constraints into its network planning moving forward.
"The forecast is that ATC staffing stays low for a few years," Biffle says. "But we can plan around it much better."
The ULCC took delivery of three Airbus A321neos during the second quarter. More than 75% of Frontier's 126-strong narrowbody fleet is now A320neo-family aircraft.
As of 30 June, the carrier had commitments for a further 222 aircraft to be delivered through 2029 – 67 A320neos and 155 A321neos.
The carrier's strategy hinges on maintaining "the lowest cost structure" of any US airline through fleet renewal with fuel-efficient A320neos, Biffle says.
Frontier appears to be spared from Pratt & Whitney's recall of some 1,200 PW1000G engines. P&W's problematic production window extended until September 2021, Biffle says, and Frontier did not accept delivery of its first next-generation Airbus narrowbody jet powered by GTF engines until roughly a year later.
"We don't have any of the engines" affected by the P&W recall, he says.