Frontier Airlines expects its planned acquisition of Spirit Airlines will generate hundreds of millions of dollars in efficiencies and give the combined carrier the scale needed to better compete against the USA's four mega airlines.
But the deal, disclosed by the carriers on 7 February, still needs approval from US regulators, which of late have pushed back against airline tie-ups.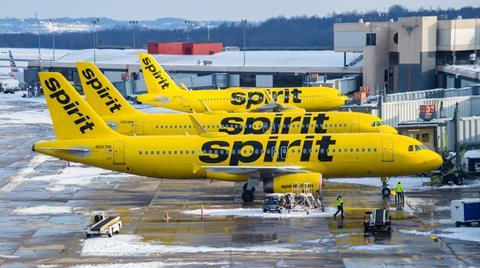 As things now stand, Frontier and Spirit are the seventh and eighth largest US carriers by available seat miles, behind Alaska Airlines, JetBlue Airways, Southwest Airlines, United Airlines, Delta Air Lines and the largest, American Airlines, according to documents from Frontier and Spirit.
But combined, Frontier-Spirit would leapfrog Alaska and JetBlue, becoming the fifth largest US carrier.
The deal calls for Denver-based Frontier to acquire Spirit, based in Miramar, Florida, with Spirit becoming a subsidiary of Frontier. Both carriers are publicly traded.
Holders of Spirit shares would receive about 1.9 shares of Frontier stock, and $2.13, for every share of Spirit. Once closed, Frontier shareholders would own 51.5% of the combined entity, with Spirit stockholders owning the balance.
Notably, the deal reunites airline investor Bill Franke with Spirit. Franke is managing partner of Indigo Partners, which currently owns a majority of Frontier's shares. Previously, Franke was chair of Spirit's board of directors.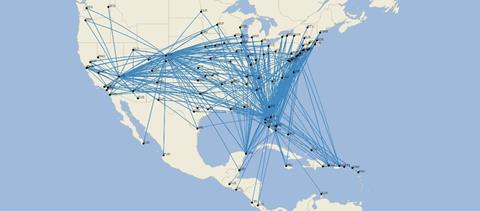 "This transaction is centred around creating an aggressive low-fare competitor," Spirit chief executive Ted Christie said during a 7 February call with financial analysts. "We believe we are the perfect fit for Frontier."
Executives say the merger will create a true national ultra-discounter. They note Frontier has a strong presence in the western USA, while Spirit's strength lies in the east.
The companies are both all-Airbus A320 operators and share a similar business model, charging rock-bottom fares supplemented by fees for various add-ons.
The combination will cost $400 million to execute and result in a company with an estimated $5.3 billion in annual revenue and 10,000 employees, executives say.

Executives expect a merged Frontier-Spirit will achieve $500 million in annual cost efficiencies through "procurement", network and other efficiencies.
"This enables us the ability to take the scarce resources we do have… and offer more flights at each gate," says Frontier chief executive Barry Biffle, himself a former Spirit executive. The airlines intend to increase aircraft utilisation and be better able to recover from operational disruptions, he adds.
The carriers have disclosed no details about branding, nor have they said where the merged airline might be based.
Both companies' boards of directors have approved the deal. Frontier's controlling shareholder Indigo Partners has also approved the merger, though shareholders of Spirit must still green-light the plan.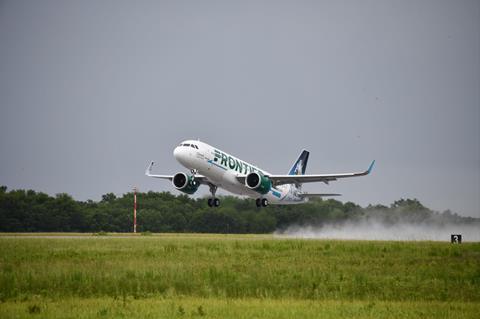 But the merger also needs US regulatory approval. It comes as the administration of president Joe Biden has taken a firmer stance against corporate combinations, having pledged to fight deals that could erode competition. The US Department of Justice is now suing to block American and JetBlue from creating a partnership in the northeast USA.
Frontier's Biffle, however, remains confident, arguing that a combined Frontier-Spirit would bring more discount fares to consumers.
"We have reached out to the administration," he says. "This merger is different from any other merger in the past."