Seeking to bolster its presence in the Midwest USA, ultra low-cost carrier (ULCC) Frontier Airlines plans to open crew bases in Chicago, Cleveland and Cincinnati early next year.
The Denver-based discounter said on 21 November that it plans to open in May 2024 a new crew base at Cincinnati/Northern Kentucky International airport and to re-establish its crew base in Chicago, in addition to previously announced plans to create a hub in Cleveland, Ohio.
Frontier's new hub in the greater Cincinnati area will have about 80 pilots and 160 flight attendants within its first year of operation. The ULCC flies to a dozen cities in the USA and Mexico from the airport in Boone County, Kentucky, on the opposite side of the Ohio River from Cincinnati.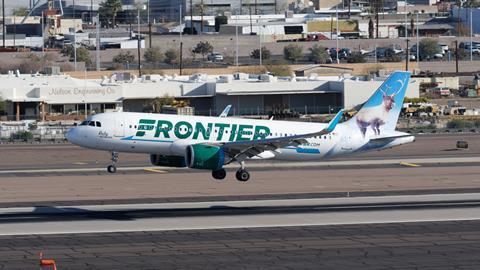 Candace McGraw, chief executive officer of Cincinnati/Kentucky International airport, says Frontier has "experienced tremendous growth" in the region since becoming the first low-cost carrier to fly there about 10 years ago.
"This will positively impact both their frequency of service and our local economy through added jobs," she says of the crew base.
The ULCC's Chicago base to support operations at both O'Hare and Midway International airports is expected to employ up to 110 pilots within its first year, in addition to 190 existing flight attendant positions, it says.
Frontier had previously maintained a base in Chicago until April 2022. It flies to 13 cities from Midway and to another five from O'Hare.
"As we continue to grow in Chicago, it makes sense to establish a crew base to help support our expanding operations," says Barry Biffle, CEO of Frontier.
Including airport and maintenance positions, Frontier expects its Chicago base to generate $34 million in local wages, while the Cincinnati/Northern Kentucky base will provide an estimated $27 million bump to the region.
Frontier's planned hub in Cleveland is expected to build up to 110 pilots, 250 flight attendants and 50 maintenance workers after opening in March 2024.
Frontier maintains other crew bases in Atlanta, Dallas, Denver, Las Vegas, Miami, Orlando and Phoenix.