US ultra-discounter Frontier Airlines plans to open a crew base that will employ hundreds at Cleveland Hopkins International airport starting in March.
The base will be staffed with 110 pilots, 250 flight attendants 50 aircraft maintenance workers within its first year of operation, Frontier said on 8 November.
Frontier calls itself "the fastest-growing carrier" at Cleveland's primary airport, adding that it has increased passenger capacity there by more than 50% in the past year.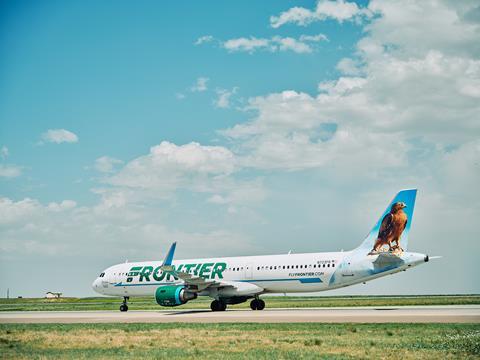 "We're excited to partner with the Cleveland community as we continue to expand our operation… and bring meaningful economic impact to the area through new jobs," says Barry Biffle, chief executive of Frontier.
The ultra-low-cost carrier (ULCC) says it expects the base to generate "nearly $80 million annually in local wages with further growth anticipated in the coming years".
Frontier also maintains crew bases in Atlanta, Dallas, Denver, Las Vegas, Miami, Orlando and Phoenix.
Parent Frontier Air Group recently reported losing $32 million in the third quarter, compared with a $31 million profit during the same period of last year, as the airline struggled with soft demand in its core markets of Florida and Las Vegas and had operational difficulties related to the Federal Aviation Administration's shortage of air traffic control (ATC) employees.
During the company's earnings call on 26 October, Frontier revealed that it is adopting the strategies of European low-cost carriers by focusing on simplified, out-and-back routes to lessen the impact of ATC and weather-related disruptions.
The Denver-based ULCC is also adjusting its strategy away from "over-saturated markets" by focusing future growth on underserved point-to-point routes.
Frontier currently flies to 17 cities from Cleveland, including international flights to Cancun and Punta Cana, as well as San Juan, Puerto Rico.