Frontier Airlines' stock began trading at $19 per share on the Nasdaq exchange on 1 April, raising $266 million in net proceeds for the Denver-based airline.
The milestone makes Frontier the second US airline to complete an initial public offering in less than one month, after Minneapolis-St Paul-headquartered Sun Country Airlines went public two weeks ago.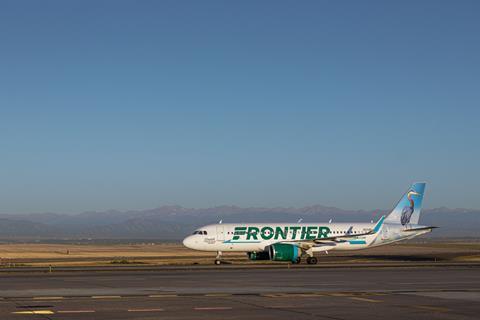 "This is an extremely proud day for Frontier Airlines," says chief executive Barry Biffle. "We will continue to deliver on our mission of low fares done right and affordable air travel to more than 100 destinations throughout the US and beyond."
The airline, founded in 1994, put up 15 million shares of its own common stock, along with 15 million shares from existing shareholders, with a 30-day option for an additional 4.5 million shares. The offering is expected to close on 6 April.
At $19 per share, the sale of 30 million shares equates to a $570 million equity raise. However, the airline will not receive proceeds from shares sold by existing stockholders.
Frontier, which filed for bankruptcy in 2009 and re-incorporated in 2013, is now trading publicy under the ticker "ULCC" – short for "ultra low cost carrier."
In securities documents filed earlier this month, Frontier reported a 2020 loss of $225 million, reversing a profit of $251 million in 2019. Frontier's revenue during the pandemic-plagued year was $1.25 billion, down from $2.5 billion in 2019.
Its load factor fell to 68% in 2020, down from 86% the previous year. Frontier also reported an average daily cash burn of $2 million in 2020.
This was the carrier's second attempt at an IPO after the first – a 2017 bid for a $100 million offering – failed.
Frontier operates a fleet of 104 Airbus A320 family aircraft, and has a commitment to purchase 156 A320neo family aircraft by the end of 2028, the airline says.