US airlines plan to hike fares and restrain capacity in the coming months, an effort to offset increasing fuel expenses with more revenue.
Several major US carriers disclosed such plans on 15 March, insisting unprecedented air travel demand will enable them to pass higher costs to consumers.
Delta Air Lines needs to increase one-way fares $15 to $20 to offset additional cash flowing out the door to pay for fuel, the Atlanta-based carrier's president Glen Hauenstein says.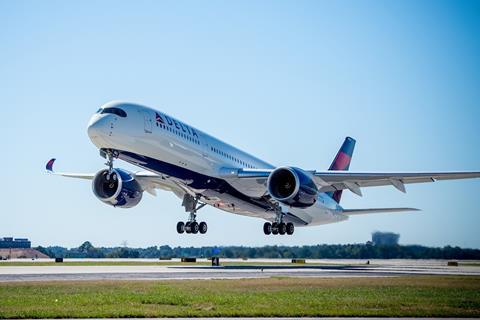 He was among several airlines executives to speak at a JPMorgan investors conference.
"We at Delta, given our demographic and average client, feel we can easily" offset higher fuel prices, adds Hauenstein. He predicts Delta's changes will generate enough additional revenue by the second quarter to offset the fuel price surge.
"We are seeing an increase in demand that is really unparalleled. We have never… seen demand turn on so quickly," Hauenstein says.
United Airlines is also revising its plans. On 15 March, the Chicago-based airline says it "has reduced its total capacity plan for the full-year 2022 to be down in the high single digits, versus full-year 2019".
United attributes the move to "several macroeconomic factors, including rising fuel prices, as well as expected aircraft delivery delays", according to a regulatory filing.
Jet fuel prices surged in recent weeks following Russia's invasion of Ukraine. Two months ago, one gallon of jet fuel cost an average of $2.11 in the USA, according to trade group Airlines for America, citing data from energy assessment firm Argus.
The price jumped to more than $4 per gallon last week but dipped to $3.11 on 14 March.
"JetBlue is moving swiftly to reduce May capacity by 6-8 percentage points," that carrier reports on 15 March in a financial disclosure.
"We should expect some capacity reductions as we make our way through the year," JetBlue Airways CEO Robin Hayes adds during the JPMorgan event.
American Airlines is also warning of increasing fuel expenses.
"In recent weeks, the price of crude oil has risen significantly," the Fort Worth, Texas-based airline says in a 15 March regulatory filing. Because American does not hold any fuel-hedging contracts, it "will continue to be fully exposed to fluctuations in aircraft fuel prices".
Still, American expects stronger-than-expected revenue will "more than offset the increases in fuel and other expenses" in the first quarter.
"Demand is higher than it has even been," American CEO Doug Parker says during JPMorgan's event. "The bookings are incredibly strong."
He notes that on two recent days, American's daily ticket revenue exceeded all its previous one-day records. "We can make money at $100 per barrel, and we will," Parker says.