Net-zero carbon emissions from the global aviation industry is unlikely to be achievable without a major reliance on offsets until at least 2060 – a decade behind targets set by the Oneworld alliance, the UK government and many other businesses – the Air Transport Action Group (ATAG) has suggested.
In a media briefing to present new analysis detailing how the aviation sector aims to meet the goal it set in 2009 to halve CO2 emissions by 2050, compared with 2005 levels, ATAG executive director Michael Gill said that net-zero emissions for the global airline sector could be achieved "in 2060 or shortly thereafter", but only "with appropriate government support"..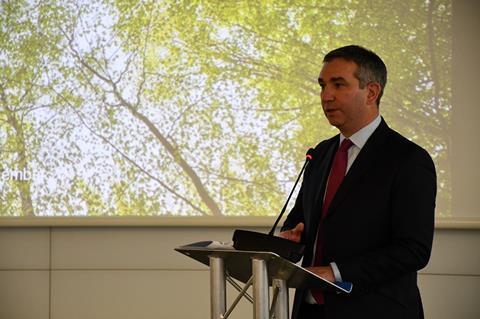 While acknowledging that some individual airlines have set a more ambitious target of 2050, and that it is "possible for some parts of the world to get to that point sooner", Gill says that for the global industry as a whole, 2060 is a "pragmatic, realistic vision".
In mid-September, Oneworld became the first airline alliance to commit to net-zero carbon emissions by 2050. Members IAG, Japan Airlines and Qantas Airways had already previously committed to the target, while Finnair has set an earlier net-zero goal of 2045.
Despite this and amid growing pressure on the aviation industry to address its impact on climate change, IATA is sticking with its 2009 target to halve emissions by mid-century rather than making it more ambitious.
ATAG says it believes the original 2050 target was "very ambitious to begin with". Gill adds that it is "a significant challenge but, crucially, it can be done". On achieving net zero, he says that "given the right advances in technology and a significant level of support from governments, aviation should be in a position to meet net-zero emissions at a global level by 2060 or 2065".
To achieve the industry's original 2050 aim will require a "complete transition away" from fossil fuels, says Gill. The airline industry will need access to 500 million tonnes of sustainable aviation fuel (SAF) by 2050 – up from the less than 1 million tonnes produced today – to make this a reality. For this to happen, "we need support from governments", adds Gill.
The Waypoint 2050 analysis released by ATAG also factors in "radical aircraft designs" such as battery- and hydrogen-powered models, which it expects to enter short-haul service in the 2035-40 timeframe, as well as operational improvements, including more efficient air traffic management and better use of existing aircraft.
While the industry's 2050 goal "does not rely primarily" on market-based measures such as carbon-offsetting, ATAG admits that such measures "will be needed in the long term to deal with any remaining CO2 emissions, or as sustainable aviation fuels ramp up".
Emissions from global aviation are expected to be significantly lower in 2020 than they were in 2019, as a result of the Covid-19 pandemic, says Gill. However, ATAG also estimates that up to 46 million jobs supported by aviation could be lost because of the crisis.
"Our analysis shows that up to 4.8 million jobs in aviation may be lost by the beginning of next year, a 43% reduction from pre-Covid levels," says Gill. "When you expand those effects across all the jobs aviation would normally support, 46 million jobs are at risk."
The cross-industry group adds that "long-term climate action should be a priority alongside economic recovery in the coming years".
Updated with additional material from ATAG