US charter carrier GlobalX has reached an agreement with Sheltair Aviation for the financing and construction of a new maintenance facility in South Florida that will support the airline's fleet growth plan.
The approximately 6,471sq m (69,650sq ft) MRO hangar will be constructed at Fort Lauderdale-Hollywood International airport, and will be capable of holding three Airbus A320-family aircraft or one A330-sized jet.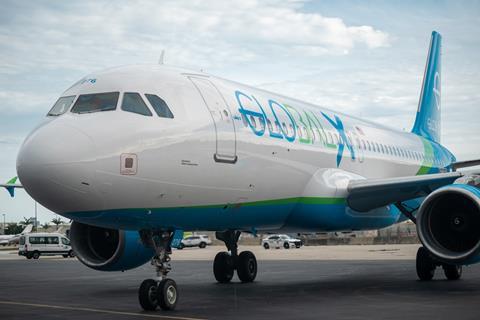 The project is expected to break ground in the fourth quarter and be completed by the second quarter of 2025, at an estimated construction cost of $25 million.
"This facility is vital to our growth and allows us to perform maintenance up to C-checks on our growing Airbus fleet," says Ed Wegel, chief executive of GlobalX, the operating brand of Global Crossing Airlines.
"Sheltair has extensive experience in the design, financing and construction of hangar facilities and continually adds new facilities to their portfolio, acting as construction programme manager and working with a world-class design and construction team to develop large aircraft hangar facilities," he adds.
Sheltair plans to design, build, finance and lease-back the MRO hangar to GlobalX. Headquartered in Fort Lauderdale, the company has "specialised aviation facilities" at 21 locations in Colorado, Florida, Georgia and Texas – including 50,923sq m (548,135sq ft) of hangar space already in operation at Fort Lauderdale-Hollywood International.
GlobalX recently took delivery of its 10th passenger aircraft, bringing its total fleet to 12 Airbus narrowbody jets, including two A321 Freighters.
The Miami-based carrier expects to acquire two more passenger aircraft and four additional freighters before year-end, which would leave it with 18 aircraft – 12 passenger jets and six freighters.