South Florida start-up carrier Global Crossing Airlines (GlobalX) reports a second-quarter loss of $7.5 million as aircraft delivery delays and long turnaround times for aircraft maintenance continue hindering the airline's operations.
GlobalX lost $6.8 million during the same three-month period last year.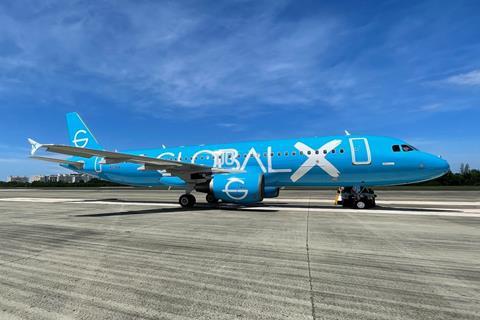 The charter operator said on 9 August that it generated $31.5 million in quarterly revenue, compared with $17.4 million last year.
The carrier's quarterly expenses reached $38.3 million, including $12.1 million spent on employee wages and benefits, $6 million on fuel and $6.8 million on leasing aircraft.
The company adds that it was negatively impacted by "accelerated cockpit crew hiring and training to prepare for a busy 2023 summer schedule, resulting in an increase of approximately $4.2 million in training expenses", and the delayed delivery of its second Airbus A321 freighter. The aircraft was set to be delivered in late 2022 but finally entered revenue service in June.
"While we had built in 90 days of flying for that airplane and 90 days of revenue for the quarter, we only got 10 days because of staffing issues and supply chain issues at the MROs," says Ed Wegel, chief executive of GlobalX.
Amid these challenges, Wegel says that "it was a very good quarter for us, setting us up for success in the future".
He points to GlobalX recently securing $35 million of financing from investment firm Axar Capital Management, which comes with a six-year repayment term. The firm's purchase of GlobalX stock will be used to "refinance all of the company's existing indebtedness" and expand the carrier's fleet of passenger and freighter aircraft", Wegel said 2 August.
The charter carrier flew 3,585 block hours in the second quarter, up 70% from last year. And company executives say the worst supply-chain snags and delivery delays are in the rearview mirror.
"We're working with MROs and doing a lot of maintenance planning now, before our airplanes go into heavy maintenance, which we believe will reduce those delays going forward," Wegel says. "The freighter delivery delays are starting to ease up as more A321 Freighters get converted and the conversion shops become more efficient."
Operating a fleet of leased Airbus aircraft, GlobalX started carrying passengers on charter flights in August 2021 and has since expanded aggressively. The carrier plans to operate 18 narrowbody jets by the end of 2023 – 12 passenger jets and six freighters.
"We're in great shape in terms of bringing these airplanes into the fleet," Wegel says. "We've made the deposits, we have the pilots and the crew standing by to fly these airplanes and we have a pipeline of pilots to make sure that we've got enough, as we get to 18 airplanes, to fly the entire fleet."
The carrier is expecting deliveries of one A319, one A320 and one A321 Freighter in the third quarter. The A319 will be converted into a "VIP configuration" with 68 seats for the winter travel season. Wegel says the aircraft – which is set to fly college and professional sports teams starting this month – was originally scheduled for delivery six months ago, but has been held up by various supply-chain issues.
GlobalX also expects to sign a lease on a new maintenance centre to be built at Fort Lauderdale International airport, planning to break ground on the facility within the next few months, Wegel says.
The Miami-based start-up has a strong outlook for the third quarter as it forecasts flying 6,000 block hours, and has boosted its revenue guidance for the full year to $150 million, which would be a 54% increase over 2022.