Gol boosted its first-quarter results as it "continues to act in a disciplined manner in managing supply and demand" in the sometimes still unpredictable post-Covid-19 environment.
The Sao Paulo-based airline said on 26 April that revenue for the first three months of the year came in at R$4.92 billion ($970 million), up 53% from R$3.22 billion in the same quarter in 2022.
Costs were R$4.12 billion, up from R$3.14 billion in the same three months of 2022, primarily driven by a 47% increase jet fuel expenses.
The company posted a profit of R$619.5 million during the period.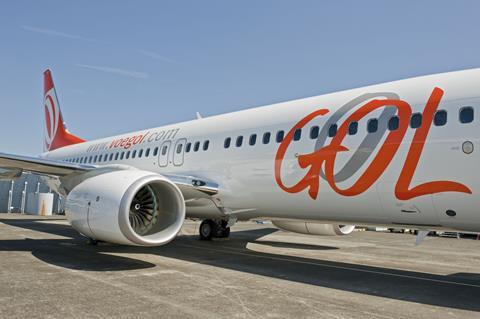 "During the quarter we delivered another sequential increase in our operating performance," says chief executive Celso Ferrer. "We continue to add supply and with our disciplined approach to costs further drive higher levels of productivity. In January, we reached operating fleet utilisation levels above 12 hours a day, a level last seen in 2019."
"As the market recovery continues, our objective is to increase annual average utilisation and strengthen our low-cost operating model with our standardised fleet," he adds.
Revenue in its Gollog freight business alone rose to R$384 million from R$209 million, an 83% climb, the company says. A fourth cargo aircraft entered service to bring the sector to a total of six aircraft. Gollog expects to reach R$1 billion in revenue by the end of the year, Ferrer says.
Corporate travel also began to look more like it did prior to the Covid-19 pandemic.
"Improvement in business travel was led by demand from small and medium-sized businesses, whose bookings increased in [the first quarter] and recovered compared to levels in 2019," Gol says. "The recovery in domestic corporate sales in the first quarter this year reached approximately 70% relative to 2019."
International corporate revenue rose 24%, and recovered to 2019 levels, the carrier adds.
The company transported about 8 million customers on 57,000 departures during the quarter, which included the traditionally busy Carnival holiday travel season. During Carnival, Ferrer says, the company logged 10% more departures than in pre-pandemic 2019.
Gol did not receive any new Boeing 737 Max 8 aircraft during the quarter but returned three 737NG aircraft as part of its fleet transformation plan, bringing it to a fleet of 144 aircraft, which includes 38 new-generation 737 Max.
The all-Boeing 737 carrier still holds orders for 103 further Max aircraft, of which 66 are for the -8 model and 37 for the -10 model.