Brazil's Gol saw increased customer demand in the second quarter amid continued roll out of Covid-19 vaccinations in the vast Latin American country.
In the three months ending 30 June, Sao Paulo-based Gol achieved R$1 billion ($197 million) in revenue, almost three times that of the same quarter last year, Gol reports on 29 July. That figure is still 67% less than in the same period of pre-pandemic 2019.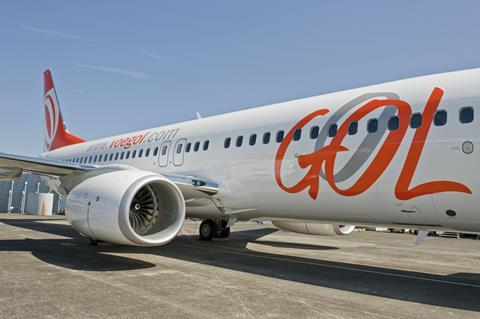 The airline reported a second-quarter loss of R$1.2 billion.
Speaking during Gol's second-quarter earnings call, chief executive Paulo Kakinoff expresses confidence in the resilience of the Brazilian market, as more people are vaccinated. He expects the trend of passengers returning to air travel will continue through the year, with business customers joining the upswing.
"This progress on vaccinations is promising for the continued recovery of Brazil's economy and a ramp-up in travel demand as Brazilians feel safe to return to their normal routines," he says. "A traditionally weak quarter proved to be a period of recovery for the industry, which resumed growth in line with the downtrend in cases of Covid-19."
During the second quarter, Gol carried 2.9 million customers, nearly five times the number it transported in the second quarter of 2020, when the coronavirus tore around the world and numerous countries imposed travel restrictions.
But as the airline ramps up this year, Kakinoff says Gol must be vigilant about protecting its margins and not simply chasing market share.
Corporate travel will be key to a sustainable rebound, he adds.
"While overall market demand for air travel in July reached around almost 70% of the pre-pandemic levels, the business segment is only just now starting to recover," Kakinoff says. "We anticipate that business travel will show a sharp recovery as of the first quarter of 2022."
When that happens, the airline will resume flying routes at high frequencies at Sao Paulo, Rio de Janeiro and Brasilia.
Gol's average load factor during the second quarter of 2021 was 85%, and its aircraft utilisation jumped 23% year on year, in line with the airline's strategy of adding capacity according to demand recovery, Gol says.
Gol had 127 aircraft in its all-Boeing-737 fleet at the end of the second quarter, the same number it had last quarter but three airframes fewer than it had one year ago. The airline now operates 400 daily flights – more than double the number it operated one year ago.
Gol expects to expand its fleet to 128 aircraft by the end of 2022, and 131 by the end of 2023.
"We continue to prove that our standardised and flexible fleet is still the best strategy to meet demand fluctuations," says Celso Ferrer, Gol vice-president of operations.