Brazil's Gol swung to a profit in the fourth quarter of 2020, though substantial losses in the first nine months of the year left the Sao Paulo-based airline with a full-year loss of R4.9 billion ($881 million).
The airline, which disclosed its 2020 results on 18 March, turned a R402 million profit in the final quarter of the year.
Executives say they are positioning the airline for greater financial recovery following the pandemic-driven downturn.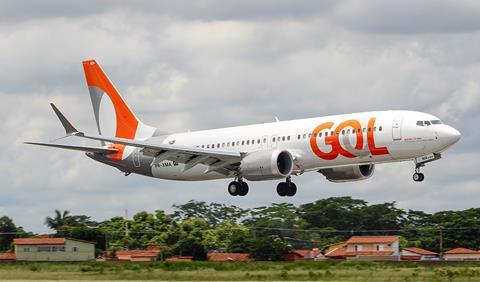 "The Gol business model is the main differential for us in overcoming the challenges this crisis has posed to airlines," says chief executive Paulo Kakinoff.
"Our single-type fleet operating model, low-cost structure with more variable components, and dominant position in Brazil's high-density traffic hubs enable us to rapidly expand and contract routes to meet fluctuations in demand."
Gol lost R5.3 billion in the first nine months of 2020, which was only partly offset by the fourth-quarter profit.
The carrier generated operating revenue of R6.4 billion in 2020, down 54% year on year, while 2020 operating expenses slipped 38% year on year, to R7.3 billion.
But the last three months of 2020 did mark a turnaround for Gol. During the period, the airline generated R1.9 billion in revenue, roughly double third-quarter revenue but still down 50% year on year. Gol carried 5.2 million revenue passengers in the fourth quarter – again, about double its third-quarter passenger count.
Also during the fourth quarter Gol became the first airline globally to return the Boeing 737 Max to revenue service. The airline calls the Max a "core pillar" of its business model, noting the type allows it to fly longer routes with improved fuel efficiency.
Despite a strong end to 2020, demand in early 2021 has been "cooling", with February sales down 28% from January figures, Gol says.
"After months experiencing one of the fastest domestic traffic recoveries relative to other key markets during the pandemic, we are seeing a contraction in travel demand due to rising number of Covid-19 cases in Brazil, combined with extended international travel restrictions," Kakinoff says.
Gol anticipates burning R3 million daily in the first quarter of 2021 and expects to end the period with about R1.9 billion in liquidity.
"We believe that the current market conditions, while difficult, are temporary, and that demand will continue to recover as the vaccine roll-out progresses in Brazil," Kakinoff adds.