Google now displays estimated carbon emissions data for users when they search for flights, in the latest sign of a growing appetite for commercial aviation's environmental impact to be quantified.
The information – expressed in total kilogrammes of CO2 per flight – is displayed during the search process in Google Flights, next to price and journey-duration information. The flights can be displayed in order of CO2 emissions, just as they can be by price.
"This update to Google Flights is just one of the many ways we're helping people make sustainable choices in their everyday lives," said Google's vice-president of travel products, Richard Holden, on 6 October.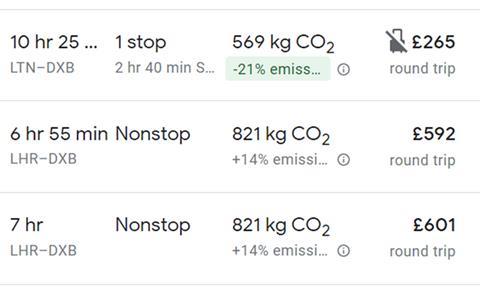 Google notes that the emissions estimates are "flight-specific as well as seat-specific". That means newer aircraft tend to fare better, while higher classes of ticket account for a bigger share of emissions because the seating takes up more space in the cabin.
Flights with "significantly lower emissions" are labelled with a green badge, Google says.
While some airlines, flight-booking agencies and standalone businesses already provide flight emissions information to consumers, the data is often not as prominent during the search process as that provided by Google and the practice is not widespread.
Google's move may, however, signal momentum towards more provision of such information.
The UK government, for example, is currently analysing feedback from its "Jet zero" strategy document, which put forward the idea of mandating the provision of flight environmental-impact data at the time of booking, among other measures.
It cites a research project led by the UK CAA, which concluded that most people thought emissions information should be universally provided across all sectors. Participants said the information would "inform the public about the relative impacts of flying and encourage airlines to reduce emissions".
The CAA cautions, however, that "emissions calculations are difficult and often use assumptions due to the absence of complete data".
The airline industry's need to reduce its environmental footprint was one of the key topics at the recent IATA AGM, where member airlines agreed to target net-zero CO2 emissions by 2050.