Policies implemented by the UK government during the Covid-19 recovery are the "principal reason" that the country's airlines are lagging those in other countries, in the view of IATA director general Willie Walsh.
Speaking in a pre-recorded interview during the Airlines 2021 event in London on 22 November, Walsh accused the UK government of "ignoring data" that shows what he claims are the low risks presented by air travel. Furthermore, he suggests the UK department for transport has had "little influence on government policy" during the pandemic, adding that it should become "more vocal in defending the industry".
The UK's 'traffic light' system – which was dropped in September – comes in for particularly strong criticism, with Walsh saying: "I've never seen a traffic light with five or six colours in it."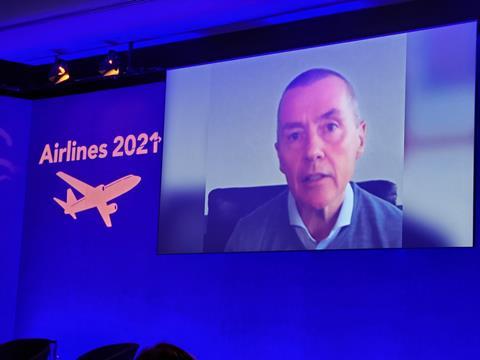 He further highlights the cost of Covid-19 testing for travellers to the UK – which still applies to fully vaccinated passengers on day two of their entry – while acknowledging the recent shift to allowing cheaper lateral flows tests in many cases.
The UK's recovery has also been slower because of its relatively small domestic market, Walsh says, with such flights driving the air travel comeback in many other jurisdictions.
Speaking later at the Airlines 2021 event, UK aviation minister Robert Courts responded to Walsh's comments, saying: "We have to balance protecting public health with enabling aviation.
"We all want to reduce, not just testing but all the restrictive measures… we are going to be reviewing that policy in January."
Eurocontrol data on flight numbers reflects the country's relatively slow recovery from the Covid-19 downturn. In the week commencing 17 November, for example, London Heathrow airport flight numbers were down 37% against the same week in 2019, compared with -24% at Amsterdam Schiphol, -27% at Frankfurt, -27% at Paris Charles de Gaulle and -22% at Istanbul.