Administrators at grounded South African budget carrier Mango Airlines have warned a deal to secure new investors may have to be abandoned after concerns raised by the national government.
Sipho Sono, who has been acting as the business rescue practitioner since Mango was placed into formal financial restructuring in the summer of 2021, has been working on securing government approval for an investor to take over the airline.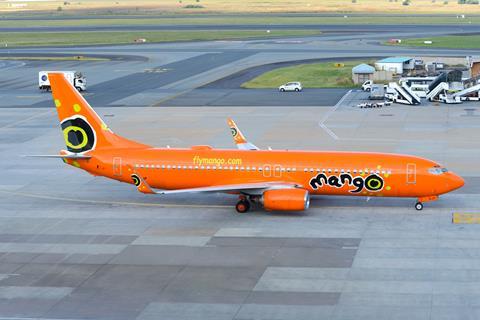 Hopes of a deal had been raised after South African Airways (SAA), which must dispose of its shares in Mango, dropped its concerns over the deal and submitted an application to sell its shares to the country's public enterprises ministry.
However, in the business rescue practitioner's latest monthly update, published on 12 January, Sono says public enterprises minister Pravin Gordhan is yet to make a decision on the application.
"We understand that the minister wrote to SAA on or about 20 December 2022, expressing a view that he was not completely satisfied with the responses to the queries that were raised by SAA," Sono says, adding South Africa's treasury has also communicated that the application will have to be resubmitted.
While noting that he had not been provided with copies of these letters, Sono says SAA did send a letter on 11 following a board meeting outlining the ministry and treasury's concerns.
"The business rescue practitioner is considering the SAA letter to determine whether the issues raised are capable of resolution and feedback in respect hereof will be provided to affected parties in due course," Sono says.
While retaining the view there is a "reasonable prospect" of rescuing Mango, Sono says: "Given the sudden turn of events, there is now the possibility that the transaction or investor process… may have to be abandoned and for the business rescue practitioner to implement the wind-down process that is already incorporated in the adopted business rescue plan."
No details of the potential investor, nor the concerns raised, have been published. Sono, however, has previously described the issues earlier highlighted by SAA as "more of a housekeeping nature and are therefore not material".