New Zealand's government has confirmed its commitment to retain a majority stake in flag carrier Air New Zealand following a proposed equity capital raise.
In a 12 February letter to the airline's chairman Therese Walsh, posted the same day to New Zealand's Exchange (NZX), the country's deputy prime minister and minister of finance Grant Robertson confirms the government's "longstanding commitment to maintaining a majority shareholding in Air New Zealand given the critical role that the airline has in New Zealand's economy and society".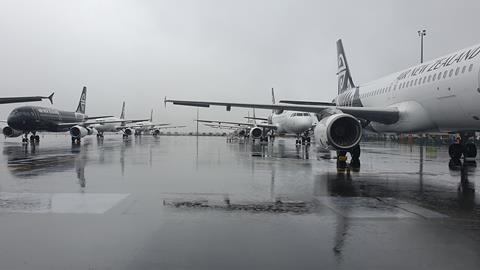 He adds that subject to the cabinet being satisfied with the conditions of the proposed equity capital raise, it will participate in the equity raise "in order to maintain a majority shareholding".
The airline is targeting to complete the capital raise by 30 June 2021 and the government and its advisors are reviewing relevant "updated information" from Air New Zealand, including a revised business plan.
Robertson said the government maintains a majority shareholding in Air New Zealand due to the "importance of a strong domestic air travel network for economic and social development purposes [and] the key role of Air New Zealand in supporting our international tourism and export industries". He also cited the airline's commitment to environmental sustainability and its role as a "good employer" and one of the country's largest employers.
"We are grateful for the loan arranged with the Crown in May last year, but that was always a temporary measure," states chairman Walsh on 12 February.
"The ability to raise equity will help set the airline up for recovery from the impacts of Covid-19 and to continue to fulfil its purpose of connecting New Zealanders to each other and New Zealand to the world."
In March, Air New Zealand entered into a debt funding agreement whereby the government would provide an NZ$900 million ($653 million) standby loan facility, called the Crown Standby Facility (CSF), to support the airline in managing the impact of Covid-19. While it did not initially need to draw down on the CSF in the first couple of months of the pandemic, come September it had drawn down NZ$110 million after reporting in August its first annual loss in almost two decades.
The CSF was "always intended as a short-term funding arrangement", the airline's chief financial officer Jeff McDowall told Reuters in an interview published on 27 August, adding that the funds are "not cheap because it is short term".
The CSF has two tranches – one of NZ$600 million with an effective interest rate initially expected to be between 7% and 8% per annum and a second tranche of NZ$300 million with an effective interest rate "initially expected to be in the order of 9% per annum", Air New Zealand said on 20 March in announcing the facility.
The airline's plan to raise equity first came to light in June when local newspaper the Australian Financial Review said in a 10 June article that it was considering various funding options, including a potential equity capital raising. Air New Zealand did not directly confirm the report at the time, saying only that it was continuing to "assess its capital structure and the options available to it, including taking advice from professional investors as required".
On 25 September, the airline said it was expecting to complete its strategic capital structure review by early 2021 and "be in a position to proceed with capital raising to be completed before June 2021".