Environmental group Greenpeace is to launch a legal challenge to block the Dutch government's planned €3.4 billion ($4 billion) rescue support for national carrier KLM, arguing green conditions tied to the bailout are not strong enough.
The move underlines the debate between economic and environmental interests surrounding air travel, particularly in Europe, and comes despite the government making the state aid conditional on several undertakings by KLM to reduce the impact of flying.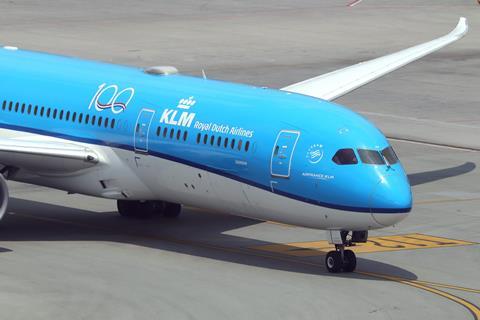 In late June the Dutch government approved the state support in the form of guarantees and loans, aimed at sustaining the carrier through coronavirus crisis, which has decimated air travel.
Like the French government backing of KLM sister carrier AIr France, the aid included environmental conditions including a reduction in the number of night flights and "an active contribution to sustainability".
But Greenpeace Netherlands has today formally notified the Dutch government that it plans to go to court to force the cabinet to withdraw the state aid to KLM because climate conditions are lacking.
"The cabinet is failing to make firm agreements with KLM on pollution control," says Dewi Zloch, climate and energy expert at Greenpeace. "We want to emerge from this crisis in a green and fair way. This multi-billion dollar subsidy for major polluter KLM is at odds with this."
Greenpeace says it wants the government to impose a maximum number of megatons of CO2 emissions on KLM each year. "That has to decrease every year, so that the major polluter emits less every year," says Zloch: "This will not work with the so-called sustainability of aviation, because it is going far too slowly,"
Zloch argues the number of flights will therefore have to be reduced considerably. "Starting with the scrapping of short-haul flights below a thousand kilometres. Because it is really not necessary to fly several planes to Brussels or Paris every day," she says.