Latin American airlines' climb out of the coronavirus-driven downturn will likely be bumpier than their peers on other continents. Economic instability coupled with widely divergent travel restrictions, newly imposed taxes and a lack of government financial aid will make for an uneven recovery.
While some countries in the region, like Argentina and Panama, sealed their borders and ceased flights to mitigate the spread of the virus, others, like Mexico and Brazil, still allow flights, if at reduced levels.
In addition, three of the region's major carriers – Chile's LATAM Airlines, Aeromexico and Colombia's Avianca – are now restructuring under US Chapter 11 bankruptcy proceedings, creating additional uncertainty for customers and investors.
These three have secured financing and hope to emerge from the restructuring process in the coming months in a stronger, more-stable position. And recent news about successful vaccine testing programmes has also buoyed the mood, creating some optimism.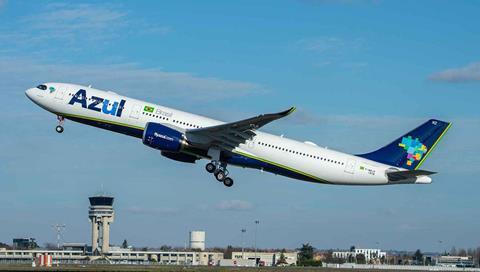 "Once the vaccine proves effective and once the countries begin to recover their economic situation, the growth will be very fast," says Eliseo Llamazares, head of the Latin American aviation and tourism practice at KPMG.
"Obviously in this context of uncertainty its more important to be prudent than optimistic. For this reason, people think that the recovery will be slow."
"But I prefer to be optimistic," he adds.
BRAZIL'S GAMBIT
Brazil, the most populous country in Latin America, maintained a skeleton network of air connectivity throughout the crisis. Going into the Southern Hemisphere's summer travel season, which extends through Carnival in February, leading airlines Gol and Azul say both leisure and corporate customers are returning in greater numbers.
Brazil is considered one of the most underserved markets, with lower per-capita air travel trips than in neighbouring countries. But with a growing middle class that can afford to travel by air, and vast distances to overcome, Brazil's passenger carriers have grown quickly, and expect that growth to continue.
"Touristic activity in the country was always high throughout the pandemic," Llamazares says. "People lived with Covid and knew what the risks were."
Gol said in November that it had "recovered 100% of pre-Covid demand", predicting that by the end of the first quarter of 2021 it will resume flights to all pre-coronavirus destinations.
Azul, meantime, is even more bullish, saying it expects domestic leisure passenger revenue in the coming months to exceed last year's figures.
"The airline with the best performance during the pandemic was Azul," Llamazares says, adding that the carrier's flexibility and variety of aircraft sizes - from ATR 72 turboprops to Airbus A330s - help it respond to demand fluctuations.
BUSINESS TRAVEL
Both Azul and Gol have said that in addition to Brazilians looking for a vacation break in their own country, more lucrative corporate customers are coming back faster than, for example, in North America.
Azul expects 35-40% of business travel will return by the end of the year, with that number to rise to 75-80% by next July.
Llamazares says it's a cultural thing. "In Latin America, you have to close a deal in person. Face-to-face contact is more important here, to build up trust. We need to travel to do business."
Still, concern about the overall economic health of Latin American countries could lead companies to cut travel budgets, slowing a business-travel rebound, he says.
PANAMA'S WOES
Copa Airlines had the rug pulled out from under its business model –connecting out-of-the-way secondary cities to the capitals of the hemisphere – when its home country Panama imposed a five-month lockdown. The government banned travel through Tocumen International airport, which Copa has long marketed as its "hub of the Americas".
But Copa and Tocumen could be unexpected winners from the crisis, analysts say. Due to its advantageous geographical location directly between the North and South American continents, 80% of Tocumen's annual 13 million passengers travel through the airport on their way to somewhere else.
The airport's new second terminal, opened in 2019, is currently idle, but Llamazares says it is sitting pretty.
"In this new context of social distancing, needing more space between flights, Tocumen has a lot of capacity to grow," he says.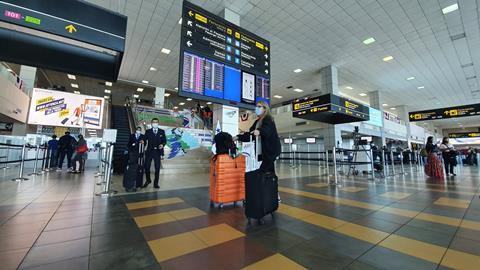 Citigroup's director of research for airlines in the Americas Stephen Trent agrees. "Copa's game is to transport the guy going from Miami to Maracaibo, Venezuela, or Sao Paolo to Guatemala City. You have this preponderance of low-density routes to places which are now going to be even harder to reach because the network airlines have pulled back so much."
Copa, which launched out of the lockdown in August with 8 destinations, expects to have about 40% of its pre-Covid capacity up and running by the end of the year.
DIVERGENT STRATEGIES
The divergent pace of re-openings, vastly different health requirements in different countries, newly imposed taxes, as well as the lack of government support for aviation have frustrated the region's industry executives and trade groups.
IATA has repeatedly called upon countries to streamline their policies around travel restrictions, implement more coronavirus testing and rein in fees in order to re-open air corridors and motivate customers to once again return to air travel.
Argentina imposed some of the strictest travel curbs on the continent, which shut down both domestic and international air traffic. In the aftermath, the country has systematically imposed barriers that will prevent a widespread recovery, the organisation maintains.
New travel taxes of up to 35% and additional levies on US dollar purchases overseas of up 60% discourage potential customers who are already wary of taking an airplane anywhere. Government restrictions on airport operations also now prevent low-cost carriers like FlyBondi from reinstating service.
"Argentina's air travel industry is in the worst situation in the region," Llamazares says. But Argentines have always been savvy, avid travellers, and they will demand the freedom to move around after the pandemic is over, despite the government's perceived efforts to keep them on the ground.
"Argentina always surprises us," Llamazares adds. "I think 2021 will be weak, but 2022 will be a positive surprise in Argentina."