There has been a surge in low-cost travel options across Asia-Pacific since the early 2000s – but the sector may now be on the cusp of a slowdown.
In the past year, low-cost carriers have stepped up co-operation while seeking to differentiate themselves, but merger and acquisition activity highlights the pressure of stiff market competition.
JETSTAR ALLIANCES
There was a lull in LCC partnerships following formation of the Value Alliance in 2016. Recently, though, Jetstar has revived the trend. Along with South Korean budget carrier Jeju Air, it launched a Gold Coast-Seoul route in December, creating the first low-cost connection between the countries.
LCCs have a much higher penetration rate in Southeast Asia than North Asia, notes Joanna Lu, Ascend by Cirium's head of consultancy for Asia.
"Some LCCs have already started to explore [expansion into North Asia] since a couple of years ago. But LCC growth requires regulatory and infrastructure support, which means it is not easy."
Jetstar expected demand to come predominantly from South Korea, so working with Jeju allowed it to mitigate risk while leveraging its partner's brand and distribution. In return, Jeju would take significant capacity on the route, giving the carrier indirect exposure to long-haul low-cost operations.
On a much larger scale than the Jeju tie-up, Jetstar Group's interlining partnership with Tigerair Taiwan was sealed in December. This entails a common underlying search-engine function that aggregates the partners' flight connections. Passengers are promised seamless connections between international flights.
"The most significant determinant of codesharing practices by LCCs is network benefit," says Lu. "Carriers whose network are concentrated are more likely to codeshare… The partnership between LCCs shows the competition in this market is fierce and margin is thin."
Jetstar Group's constituent carriers – Jetstar Airways, Jetstar Japan, Jetstar Pacific and Jetstar Asia – are spread out across Asia-Pacific, respectively based in Melbourne, Tokyo, Ho Chi Minh City and Singapore. Each connects 20-35 cities, while the Taipei-based Tigerair Taiwan operates between 25 cities.
Jetstar Japan serves broadly the same region as the Taipei-based Tigerair Taiwan, but there are few overlaps between their operations. In theory, the interlining partnership creates an extensive network that offers over 400 connections between more than 100 cities, across North Asia, Southeast Asia and Oceania.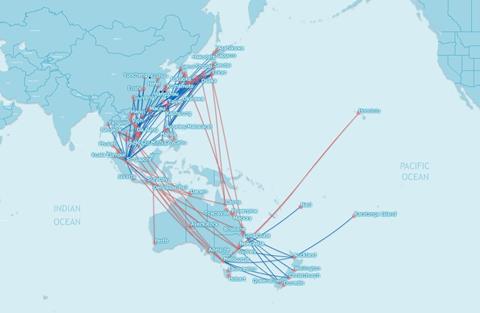 LCCs in general are fast encroaching into full-service-carrier territory as they seek to differentiate themselves.
But although the lines have been blurring for passengers, there are still fundamental differences in cost structure that set LCCs apart from FSCs.
LCCs pursue a point-to-point strategy and tend to have a uniform fleet and higher aircraft utilisation, and to be based at lower-cost secondary airports. They generally offer fewer passenger services and operate with lower crew costs, have a higher seating density, and outsource aircraft maintenance.
TWEAKING THE FORMULA
Where LCCs have traditionally associated with shorter flights, however, more are now setting their sights on medium- to long-haul routes and adding widebodies to their fleets.
Cirium data shows that LCCs account for over 20% of the Asia-Pacific fleet and nearly 30% of the region's passenger capacity. The LCC fleet is overwhelmingly dominated by Airbus A320-family aircraft, but also spans 62 A330s and 30 Boeing 787s in service. Asia-Pacific LCCs also have 96 A330s, 10 A350s and five 787s on order.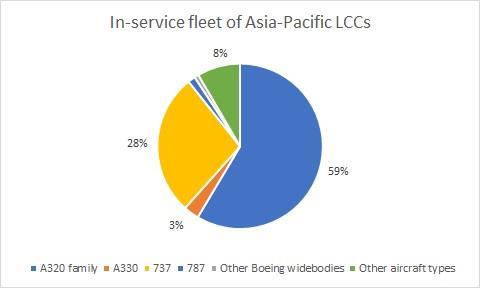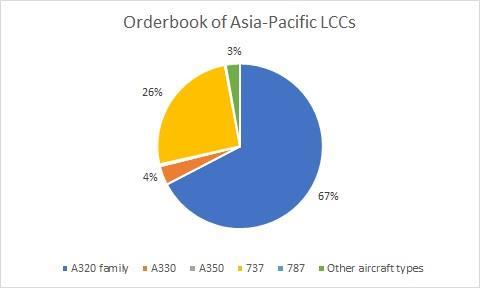 South Korean start-up Air Premia recently committed to acquiring five 787-9s and plans to operate 10 787-9s within five years. It expects to begin operations in September 2020, starting with Asia before expanding into long-haul routes in 2021.
Japan's ZipAir is another newcomer with long-haul ambitions. It expects to launch this May with two 787-8s from parent company Japan Airlines, and targets operating 10 by 2024.
Bamboo Airways recently added three new 787-9s to its fleet, acquired separately from another 10 in its orderbook.
ZipAir and Bamboo are both offering business-class seats, though Asian LCCs have yet to specifically target business travellers.
Ascend by Cirium's Lu says this could be a viable sector if companies cut travel budget when the economy is bad. "But the principle for LCCs is to keep things easy. It's still hard to manage multi-class if they want to keep the cost low."
STRUCTURAL SHIFTS
Market consolidation, as indicated by merger and acquisition activity over and the past year, shows that airlines are struggling with the pressures of thin margins amid stiff competition.
Japanese low-cost carriers Peach and Vanilla, both units of ANA Holdings, began merging operations in March and expect to achieve full integration by the end of the fiscal year running to 31 March 2020.
ANA's intent was to become more competitive in the LCC space, but restructuring comes at a cost. Amid a "temporary decline" in the number of flights operated, as a result of the merger, the group's low-cost segment saw revenue decline 4.6% in the six months ended 30 September 2019.
A key event in 2019 was Jeju's planned acquisition of a 51% stake in the smaller Eastar Jet for W69.5 billion ($59.7 million), which it will fund with a W10 billion convertible bond.
Earlier in the year, the Aekyung Group, which co-owns Jeju with the Jeju Island government, bid for Kumho Industrial's 31% stake in Asiana Airlines as part of a consortium with Stonebridge. The group was quoted by local media as saying: "There has been no single case in the history of the global aviation industry in which a company that doesn't have any experience in airline business acquires an air carrier."
The on-offer Asiana stake has since gone to the Hyundai Development-Mirae Asset Daewoo consortium. The parties have committed to a W2.5 trillion deal and aim to complete the acquisition by April.
With the mainline carrier and LCCs Air Busan and Air Seoul under its belt, Asiana's new owners envision them as part of a transport group, so change could be on the horizon.
"This links to the market competition situation and overall economic cycle. It's not uncommon to see airline consolidation in a more difficult time," says Lu.
This year, five start-up LCCs are likely to begin commercial operations, Cirium data shows. These are South Korea's Aero K and Air Premia, Japan's ZipAir, Thai Eastar Jet and Thai Summer Airways.
Furthermore, ANA has previously indicated plans to launch a medium-haul LCC this year, as part of a greater focus on the budget market.
However, although the Asia-Pacific region is perceived as having massive economic potential, the LCC boom is unlikely to continue indefinitely, given the muted outlook across the broader airline sector.
"It would be challenging for the next couple of years for more start-ups coming to market," says Lu. "LCCs or any of the airlines need to carefully manage their traffic demand and operational efficiency."
Story by SiMin Ngai, Dashboard Editor Asia at Cirium.