Hawaiian Airlines' pilots have come to a tentative agreement with the airline on a new four-year contract.
The pilots are represented by union Air Line Pilots Association, International (ALPA). ALPA said on 18 January that the new deal includes "substantial pay increases", as well as "current industry-leading rates" for the airline's new cargo operation, which it announced in October.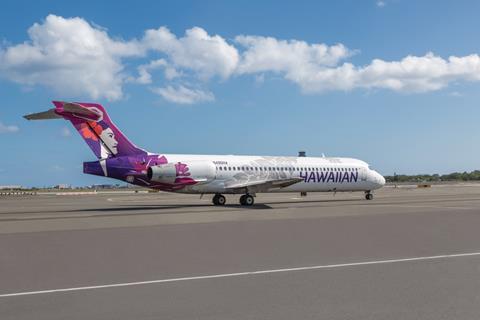 "We believe this industry-standard agreement represents a monumental step forward in terms of overall compensation and quality of life gains," says Hawaiian's pilot union leader Larry Payne. "Hard-fought negotiations between the negotiating committee and the company have now yielded what the [Master Executive Council] believes to be an agreement that accomplishes the goals our pilots set for us when we opened talks two years ago."
Pilots will receive a pay increase of 32.9% on average over the course of the contract's time frame. The deal also offers additional bonuses and financial incentives, as well as increased schedule flexibility.
Flight deck crew for the airline's new cargo arm, which will operate at least 10 Airbus A330-300 Freighters for Amazon beginning later this year, will also receive industry-leading pay, ALPA says.
"The A330F rates will be the highest in the industry, surpassing existing rates at cargo giants UPS and FedEx Express," ALPA says.
The negotiated deal now goes to Hawaiian's 1,000 pilots for ratification, with the vote beginning on 27 January. If ratified, the agreement would take effect on 2 March.
Earlier this week, Delta Air Lines' pilots also agreed to a tentative contract that will reportedly give that airline's cockpit crew raises of more than 30% over the course of several years. That contract will go to a vote for approval from 31 January. If approved, it will be retroactive to the beginning of 2023.