Hawaiian Airlines has made a strategic investment in all-electric seaglider developer Regent, viewing the company's in-development craft as having potential to operate inter-island routes.
The Honolulu-based carrier says on 11 May it is supporting the start-up's design of a 100-person craft called Monarch, a "wing-in-ground-effect" vehicle planned to enter service by 2028.
"Innovative inter-island transportation has been core to our business since 1929 when we replaced steam ships with airplanes," says Avi Mannis, Hawaiian's chief marketing and communications officer. "We are excited to be an early investor in Regent and to be involved in developing their largest seaglider – a vehicle with great potential for Hawaii."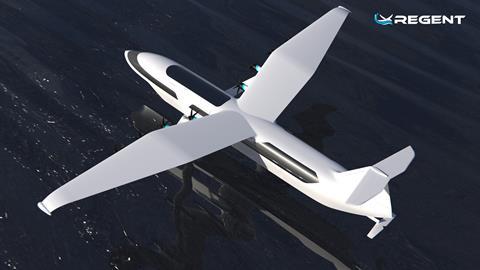 "Seagliders will be a game-changer for sustainable regional transportation in communities such as Hawaii, adds Regent's chief executive Billy Thalheimer. "Through close partnerships with design partners and strategic investors such as Hawaiian Airlines, we can fully understand our operators and unlock their ability to provide zero-emission transportation solutions to their customers."
Regent is currently working on its first craft, called Viceroy, which is due to begin sea trials in 2023 and enter service in 2025. It's an all-electric 12-passenger vehicle that has a 160nm (296km) range and travels across water in one of three modes: hull, hydrofoil and flight-in-ground-effect, the company says.
Ground-effect is lift generated while an aircraft flies close to the surface of the earth, forcing air through the narrow space between the aircraft and the ground, and reducing aerodynamic drag.
Regent says improving battery technology could eventually enable its craft to have more than 400nm of range.
The company is working with the US Coast Guard to certify the craft as a maritime vehicle but is also coordinating with the FAA, it says.
"Over time, a collaborative approach between aviation and maritime authorities is key to deploy seagliders at scale," Regent adds.
Hawaiian is Regent's first US-based design partner for the Monarch, the company says.
The seaglider could serve as a replacement for Hawaiian's ageing 17-strong Boeing 717 fleet, which complete most of the carrier's island-hopping routes. Those aircraft are an average age of 20.2 years old, according to Cirium fleets data, and Hawaiian has said it is beginning to look for alternatives to replace them in the coming decade.
In February, Regent said it had raised $18 million in funding, led by Thiel Capital, with participation from existing and new investors, including US regional carrier Mesa Air Group. As part of the deal, Mesa committed to purchase 200 seagliders.