Hawaiian Holdings, the parent company of Hawaiian Airlines, says fourth-quarter losses narrowed as tourists returned to the Pacific Ocean archipelago in greater numbers toward the end of 2021.
The Honolulu-based carrier says on 25 January it lost $92.6 million during the final quarter of 2021, compared to $162.6 million for the same quarter during 2020, amid widespread travel restrictions, including quarantine measures.
For the full year, Hawaiian lost $144.8 million compared to $510.9 million in 2020.
Total revenue for the fourth quarter came in at $494.7 million, down 30% compared to the fourth quarter of 2019, on 19% lower capacity.
For the full year of 2021, Hawaiian posted revenue of $1.6 billion, down 44% compared to the full year of 2019, on 29% lower capacity.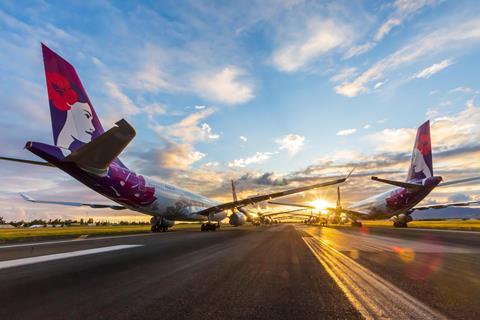 "Demand for leisure travel remains resilient as evidenced by strong domestic travel volumes to Hawaii, and the building blocks continue to fall into place for a recovery of international demand in 2022," says Hawaiian's chief executive Peter Ingram.
"We ended the quarter largely as expected with strong demand and signs of recovery," he adds. "We faced operational disruption due to the Omicron variant and have had to make modest near term adjustments to restore our operational integrity and are on better footing for the months ahead."
"Omicron was a reminder that road ahead may not be smooth," Ingram says. While the carrier can't control how the pandemic develops, "we will be ready to take advantage of pent-up demand as it materializes", he adds.
For the first quarter of 2022, Hawaiian expects revenue to be 31-35% lower than in 2019, on 10-13% lower capacity as measured in available seat miles (ASMs).
While domestic travel, including both to the US mainland and neighbor islands are strong, the airline's international service rebound is lagging.
Brent Overbeek, Hawaiian's senior vice-president for revenue management and network planning, says the "worst of the impact" of Covid-19's Omicron variant will be in the first quarter. The issues are pronounced in January and February and "we have a bit of a hole to dig out of toward spring break".
That said, capacity on routes to and from the US mainland will be around 120% of the same quarter two years ago.
Due to temporary schedule changes in neighbour island service, Hawaiian expects to fly 75% of its 2019 flight schedule in the first quarter.
Hawaiian's biggest problem area is Japan – the airline's biggest non-US market. Last October, Ingram told FlightGlobal the company was preparing to restore much of its Asia-Pacific service at the end of 2021, as countries around the Pacific Rim had been expected to begin to dismantle their coronavirus-driven mobility restrictions.
Japan is Hawaii's largest source of international tourists, with about 1.7 million visitors arriving in 2019 alone. That number has plummeted in the past two years.
"Based on what we know today we expect to ramp up our service to Japan in the second quarter," says Overbeek. "We remain uncertain as to when Japan will fully reopen. We will be ready to relaunch our international network as soon as policy conditions allow."
Overall ASMs are set to improve for the full year, with the airline forecasting 2022 capacity to be between 3% lower and 1% higher. Hawaiian's previous estimate range was higher than that, from flat to up 4%.
787 DELAYS TO 2023
Peter Ingram says that delivery of the airline's first Boeing 787 will be delayed further, and that he now expects the aircraft "no earlier than first half of 2023".
Hawaiian has already removed the potential capacity of the 787 from its full-year capacity expectations.
Hawaiian holds orders for 10 787s, the first of which was to be delivered in late 2022. Those had been planned to replace the airline's ageing Airbus A330 fleet. Last quarter, Ingram said the company will keep the A330s a while longer, giving the company's long-haul operation more flexibility to mange through an uneven recovery.
"The path isn't linear and some of the progress on the international side has slid to the right," Ingram adds. "The trajectory of leisure travel has been interrupted, but the underlying desire for it has not."