Hawaiian Holdings, parent of Hawaiian Airlines, reports losing $12.3 million during the second quarter of 2023 – compared with a $47.4 million loss during the same three months last year – as the company looks to capitalise on rebounding air travel between Hawaii and Japan.
During its 25 July earnings call, Hawaiian cites a long-awaited resurgence in demand from Japan in its "favourable" forecast for the remainder of 2023.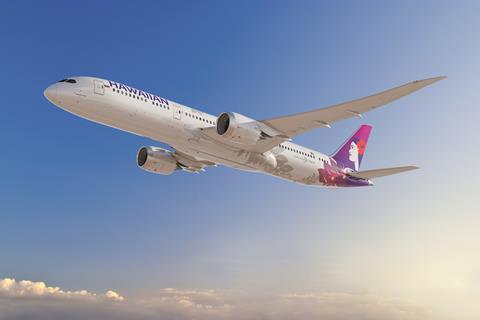 "Since early May, Japan outbound demand has accelerated meaningfully for the first time since the onset of the pandemic. Combined with historically high demand from US point of sale, the result has been load factors… that are comparable to historical levels," says chief executive Peter Ingram. "It is great to see Japanese visitors start to return to Hawaii in numbers."
The Honolulu-based carrier's second-quarter revenue rose 2.2% compared with the same period of 2022, to $707 million from $692 million.
In a trend recently observed by several other airlines, Hawaiian's cost of aircraft fuel decreased 26% in the second quarter, while total expenses were roughly even with last year's.
Hawaiian flew 2.8 million passengers during the three months ending 30 June, up 8.7% year on year.
The carrier notes that it has improved its operational performance following the completion of a major construction project at its base at Honolulu International airport that had "severely affected our operations and on-time performance", Ingram says.
DELIVERY OF DREAMLINER DELAYED
Hawaiian also disclosed that delivery of the first of 12 787-9s it is expecting from Boeing has been delayed by about two months, pushing the widebody jet's expected arrival to the first quarter of 2024.
"We didn't actually expect to have the 787 in operation before early 2024 anyway, so… no changes to our 2023 plans," Ingram says.
The airline expects three more of the Boeing widebodies to be delivered next year, and for deliveries to continue through 2027. Hawaiian's Dreamliners will be configured with a new business-class product featuring 34 flat beds and a main cabin with 266 seats.
The carrier expects that revenue from its planned Dreamliner operations will begin picking up significantly in 2025.
Earlier this month, Hawaiian Holdings took delivery of the first of 10 Airbus A330 Freighters it will operate on behalf of Amazon, and has recently shifted A330 maintenance entirely in-house, allowing the airline to "take full ownership of our A330 fleet liability", Ingram says.
"Over the next few months, we will use the aircraft for employee familiarisation work," he adds, noting that the jets will begin revenue service in October.
Ingram anticipates accepting the other nine A330Fs over the next 18 months, "providing us a new and diversified stream of revenue that will begin to ramp up more materially in 2024".